Date/Time
Date(s) - 12/11/2014
6:30 pm
Location
Alliance Francaise de Bangalore
Categories
AF CINEMA: Belly of the Tantra
6:30pm | 12th of November | Alliance Française auditorium
Belly of the Tantra, Documentary Film, Pankaj Purohit, 72 mins
Producer:Onward Entertainment, llc.
Language: Hindi
Subtitles: English
NOTE: Graphic images. Not suitable for minors
The film delves into the radical beliefs and extreme rituals of Tantra that religion can incite. By exploring an ancient and eccentric sect of Hinduism along the river Ganges and throughout India which has sparked much controversy and significant taboo, 'Belly of the Tantra' challenges our notions of faith and the limits to which one can go.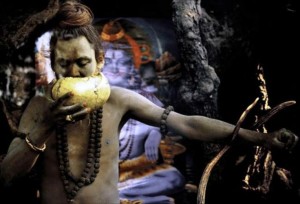 About the director:
Pankaj Purohit grew up throughout India. His curiosity to explore stories beyond just his native country propelled Pankaj to pursue his study of screenwriting and the cinematic arts in Los Angeles. As a writing student he was mentored by Gregory Allen Howard, writer of "Remember the Titans" and "Ali." While Pankaj continued his directing studies at UCLA, he interned with independent production companies all over Los Angeles and worked a a production assistant on many films. He eventually partnered with Onward Entertainment to co-produce "Twilight's Grace," and he continues to collaborate with Onward as a creative partner. He has a feature film in development with Onward, "The Rope in the Darkness," a dramatic thriller to be shot entirely in India. Pankaj works in LA and India and recently filmed the documentary, "Belly of the Tantra," which has sparked much controversy in India. Pankaj strives to share the unknown, uncharted and revealing stories that humanly affect us.
Extended Trailer:
https://www.youtube.com/watch?v=6x5ze
There will be a short introduction of the director before the screening and a Q n A with the director and the producer post the screening.
Contact : Babita Modgil +919819229678
NOTE: Graphic images. Not suitable for minors