The Alliance Française building is surrounded by a splash of green – a well-maintained garden that is designed to let nature take precedence and is dotted with sculptures by the renowned sculptor Balan Nambiar.  Together with the basement, there is ample room to park about 20 cars and double the number of two wheelers.
The basement of the Alliance, apart from functioning as a parking bay, also houses a dance studio. When the need arises, the space transforms itself into a spacious design studio.
A huge foyer welcomes students and visitors to the Alliance Française de Bangalore. The auditorium brings together culture enthusiasts. A café, a TV-viewing space and patio are areas where students and visitors take a break. Seven class rooms around a well-lit atrium and a Campus France office are situated on the ground floor.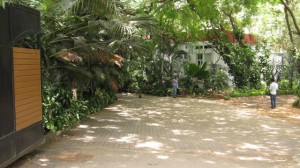 The library with an audiovisual room, the Director's office, the academic, the cultural sections, three class rooms and the translation service are located on the first floor. The terrace, a value addition, is used for many cultural activities and for a much-needed breather!