Date/Time
Date(s) - 12/05/2016
4:30 pm
Location
Alliance Francaise de Bangalore
Categories
YOUTH IN DANCE 2016 by Padmalaya Dance Foundation
4.30 pm | 12th of June | Alliance française Auditorium
Padmalaya Dance Foundation, under the direction of Smt. Padma Murali has been instrumental in promoting classical arts amongst youth for several years now.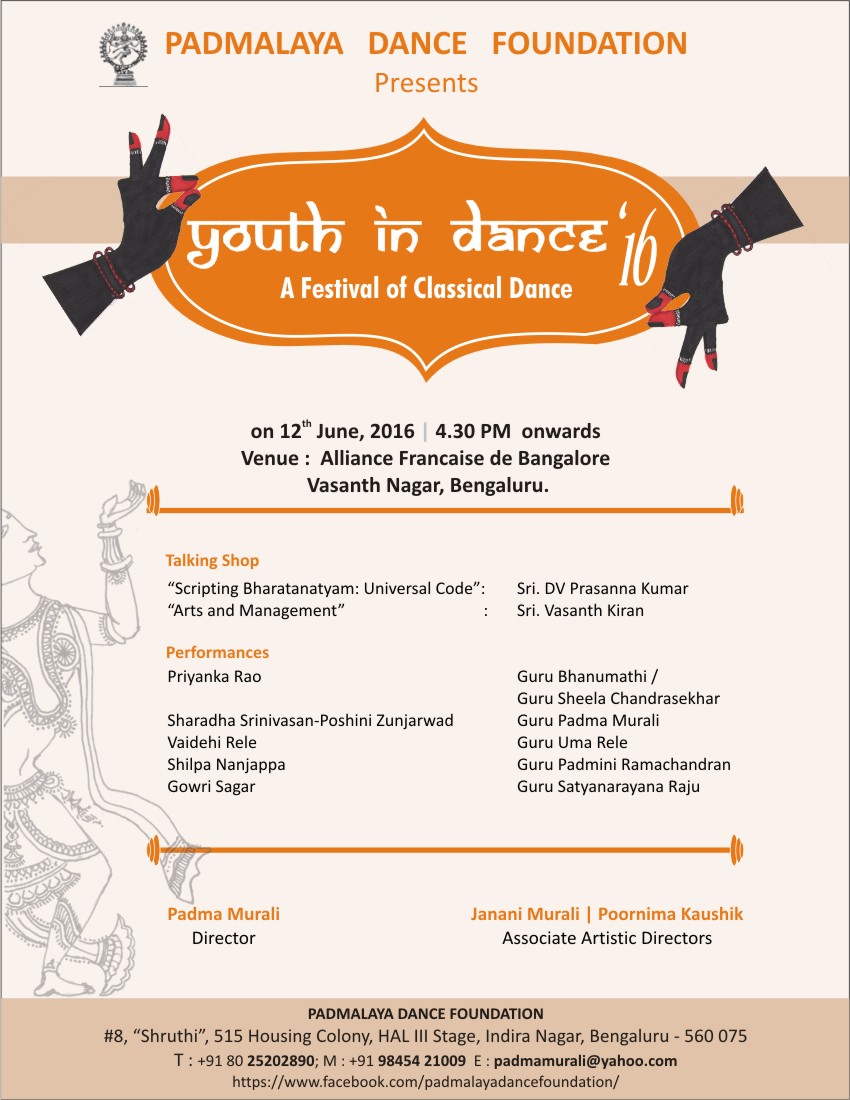 The Foundation initiated a "YOUTH IN DANCE" festival 4 years ago which was met with great appreciation. This year again, we present yet another edition of the festival for Young Dance Professionals. The festival will present 8 young artistes in performance and talk. With a view to not only promote performance centric events but to also recognise the vast number of artistes who are studying, researching, creating original work and forming cross-cultural dialogues, this edition of the festival will present Nattuvanars and art management professionals who will present their work alongside the performances.
Youth In Dance 2016 will be held on 12th June 2016 at Alliance Francaise de Bangalore, Vasanth Nagar, Bangalore.
The first session "Talking Shop" will have 2 speakers:
Sri DV Prasanna Kumar presenting his work on "Creating a Universal Code for Scripting Dance"
Sri Vasanth Kiran will present a short talk on "Arts and Management"
The performers are:
Priyanka Rao (Disciple of Guru Bhanumathi and Guru Sheela Chandrasekhar)
Sharadha Srinivasan & Poshini Z (Disciples of Guru Padma Murali)
Vaidehi Rele (Disciple of Guru Uma Rele)
Shilpa Nanjappa (Disciple of Late Guru Padmini Ramachandran)
Gowri Sagar (Disciple of Guru Satyanarayana Raju)
For Passes kindly contact:
Padma Murali
Padmalaya Dance Foundation
#8, 515 Housing Colony, HAL III Stage, Indirangar, Bangalore- 560075
+91 98454 21009; [email protected]