Date/Time
Date(s) - 21/07/2017
6:00 pm - 7:00 pm
Location
Alliance Francaise de bangalore
Categories
YOUNG TALENT PROGRAM
6PM onwards / 21st of July / Alliance Française Atrium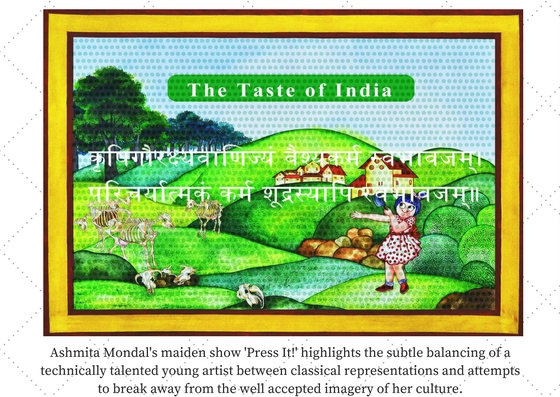 Press It!
When I go to Kala Bhavana, the Tagore founded art school in Santaniketan, there is a place I never forget to visit: the printmaking department. I have a fascination for the press they use, the smell of the various inks, the papers that are all around, the prints that are discarded and those that are carefully kept in the especially designed chests of drawers. I had also noticed there is always a bunch of students around, chatting, discussing, getting a tip. The place being dedicated to paper works makes it very special, a sort of concentrate of experiences. I can easily imagine Ashmita Mondal exploring the art of lithography with her peers and her teachers. I can also easily imagine her being well motivated, perhaps inspired, by the artists who worked on the presses before her: KG Subramaniam, Sanat Kar, Nandalal Bose, Ramkinkar, Somnath Hore, etc. Sometimes, a teacher comes and shows the lucky visitor a well-kept lithograph done by one the school's legends, a treasure made out of memories.
In Press It!, the artist selected four bodies of works. The Truck series, inspired by the colourful roads of India i.e. what Mondal must had seen on the roads and on the roads sides throughout her life. She uses the back of the truck as a screen where she projects the mundane, a miniature type landscape or a scene from the Mahabharata. Deshavatar gives life to different avatars of Vishnu. She creates an interesting context where the techniques (embossing, printing, painting) help seeing through the complex personality of the god. Perhaps a frustrated or a talented poker player, the artist illustrated a royal family in the Play series, a winning royal family obviously backed up by well wishing gods. Mondal's Divinity series is perhaps the most humoristic and sarcastic of the lot. Blending the Amul popular brand culture with symbols of the holy cows, the young artist incorporates the archaic in the modern with a noted freedom of speech.
What I find interesting in Press It! is the subtle balancing of a technically talented young artist between classical representations and attempts to break away from the well accepted imagery of her culture. Showing her works and getting feedbacks from a wider audience will surely help Mondal find a strong and personal way to move forward and affirm her style. This is just a beginning !