Date/Time
Date(s) - 21/05/2016 - 22/05/2016
5:00 pm - 9:00 pm
Location
Alliance Francaise de Bangalore
Categories
THEATRE: You've Got Hate Mail
5.00 & 7.30 pm | 21st & 22nd of May | Alliance Française auditorium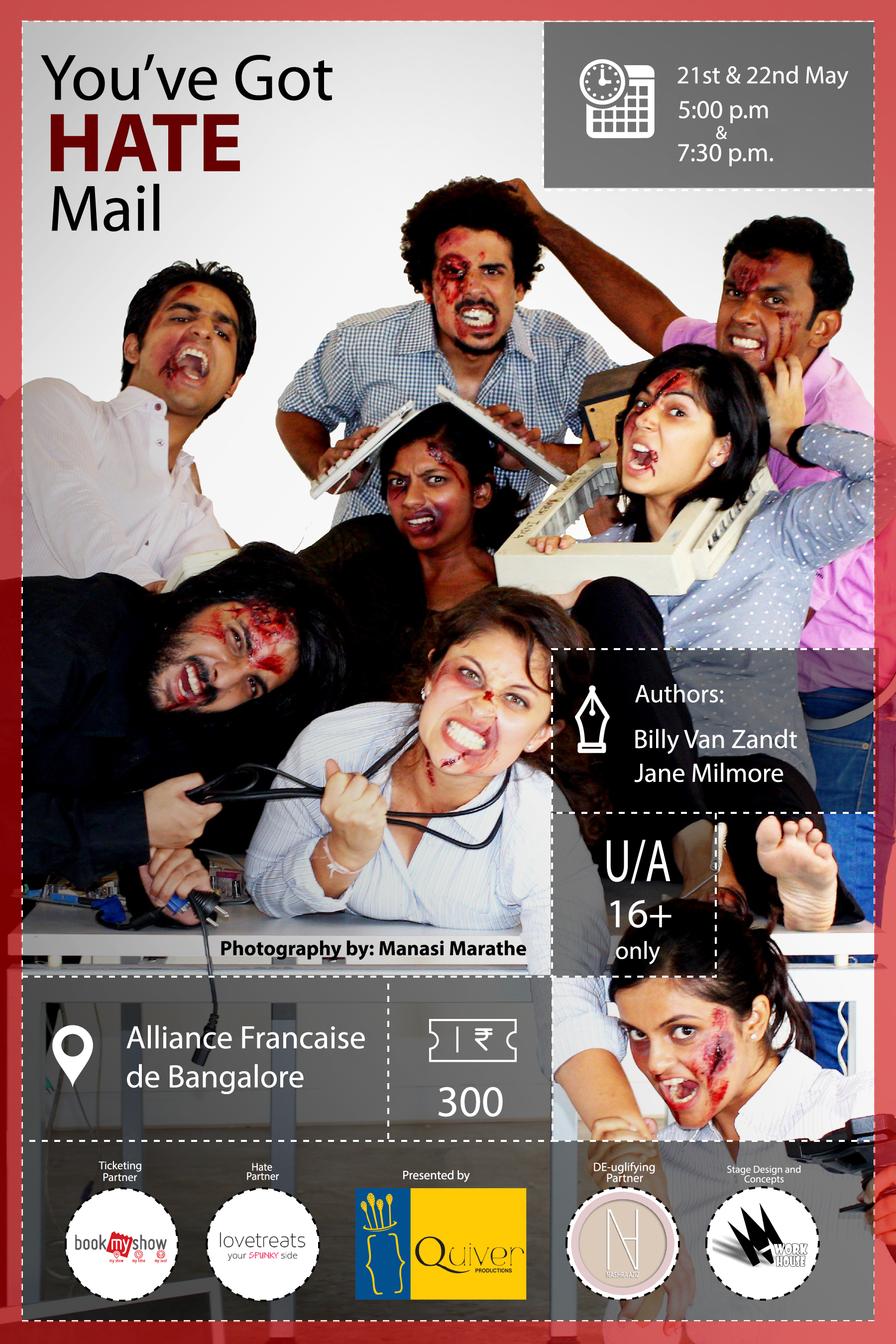 You've Got Hate mail, is a sweet, coming-of-age story of a young email account spawned for Mrs. Stephanie Winters.
In its short life span, it has heard the languishing cries for help from many Nigerian princes, a LOT of promises of penis enlargement and one accidental, monumental reveal of her husband Richard's sordid affair with Wanda Wazzername, the office's village bicycle. What follows is a tale of chaos and comedy as we see this wee little email
account grow into a chain of messages that show the infidelity, incompetence and unscrupulous behaviour of all the lovely misfits it is nurtured by.
Will Richard ever find self control as his best friend George tells him YOLO (You Oughta Look Out), TMI (Too Much Infidelity)? Will Stephanie ever get her life back on track with the help of her pugnacious pal, Peg? Will Bob the security guard kiss the director's ass enough to get a speaking role? Will Hal Xumbuddi ever figure out why he keeps getting obviously fake nude pictures of Hillary Clinton? All these and many more questions you couldn't give a damn about will be answered through the (very) adults-only play. Come join us @ You've Got Hate Mail
Duration: 90 minutes
Age limit: 16 + Only
Ticket Price: INR 300 / Book my Show 
Organiser: Quiver Productions