Date/Time
Date(s) - 24/10/2014
4:00 pm
Location
Alliance Francaise de Bangalore
Categories
24 Oct, 4.00 pm and 7.00 pm
THEATRE: Neither Equal Nor Opposite by Ol' Bard Entertainment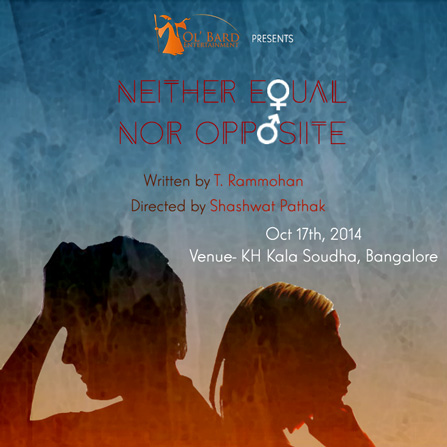 Story: Part 1 [Maanav and Nandini]
They were the best of friends, always with each other through thick and thin. A long friendship, a long period of courtship and then they got married. Slowly Maanav started moving away. Changes within are always reflected outside. Distances grow. Nandini falls in love again,with Shiv. Does she feel guilty about it? What is the cause and what is the effect? Is Shiv the effect of marital discord? Is marital discord the effect of Shiv? Are both the problems independent? Should she tell Maanav? Nandini tries to find answers through her sounding board, Nisha. How will Maanav react? How do men react in this situation? Do they deny it? Do they become angry? Do they forgive? To tell or not to tell? Nandini takes her own decision.
The Story: Part 2 [Siddharth and Sandhya]
Women decide on their own. Men want someone else to decide for them. Siddharth and Sandhya share the same past as Maanav and Nandini; and the same issue; turned on it's head. Siddharth has found his new soulmate in a colleague, Prachi. He thinks she understands him perfectly. Sandhya no longer does. Sandhya got busy, as married women do, managing the home and the family and the uncertainities. How will Sandhya react? How do women react? Will she get vindictive or benevolent? Will she cling on to Siddharth? 'Someone else' is Ram. A confirmed old bachelor, Ram has views on everything. Men need more than just a sounding board. They want someone else to take the responsibilty initially. Siddharth and Ram chat over drinks in the club. To tell or not to tell? For men, even not answering this question is an answer.
Contact: Shruti Mishra 9980524441 / Meeshu Agnihotri: – 8971825624