Date/Time
Date(s) - 04/06/2016 - 05/06/2016
4:00 pm
Location
Alliance Francaise de Bangalore
Categories
THEATRE: Evam Indrajit
4.00 & 7.30 pm | 4th & 5th of June | Alliance Française auditorium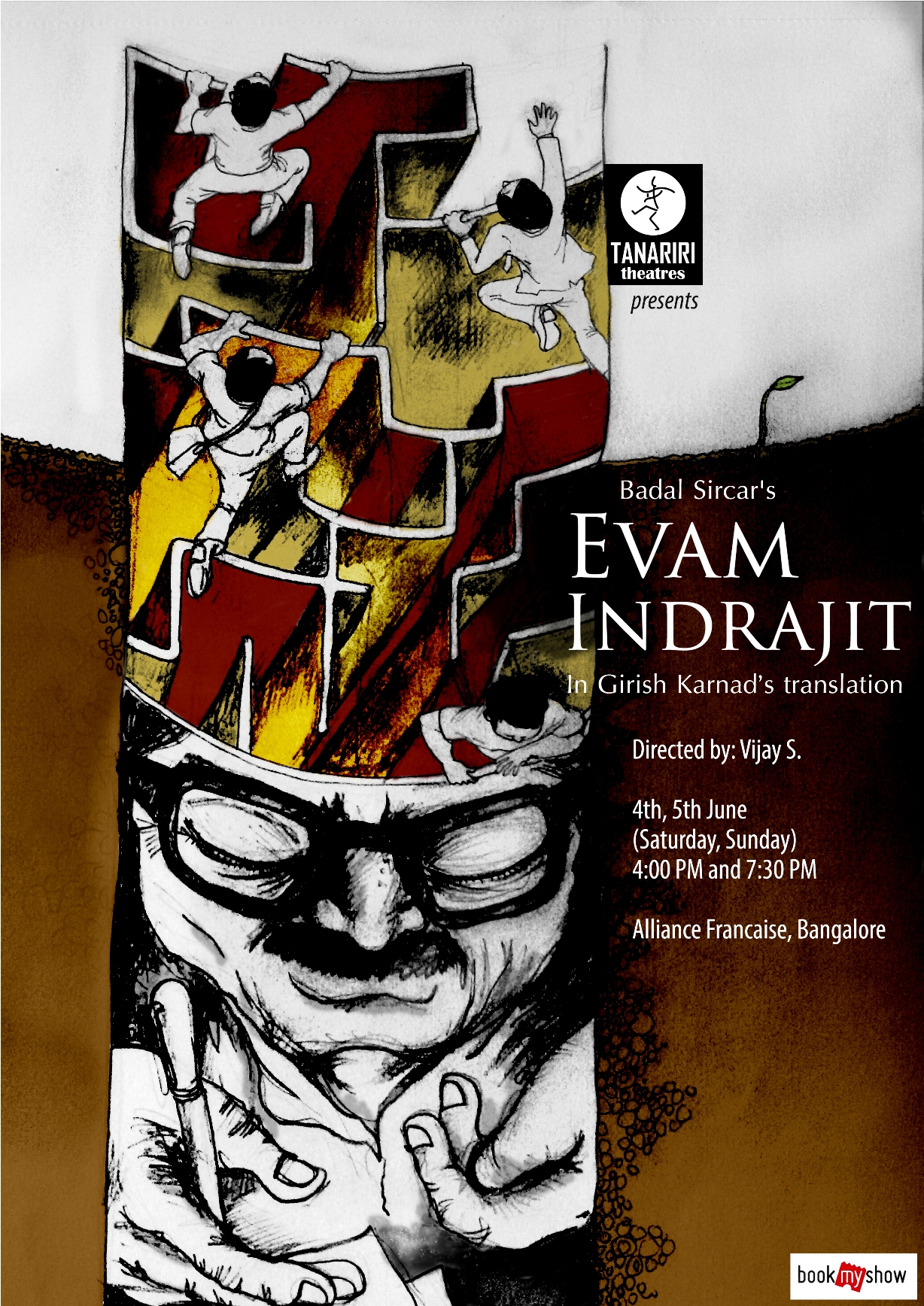 Badal Sircar's play in Girish Karnad's translation
What would a writer do if one of his characters develops a mind of his own, when all other characters are perfectly happy going round and round within the boundaries that the writer has set for them?
In "Evam Indrajit," Badal Sircar's abstract, semi-autobiographical play, a writer, who feels tortured by the need for creative expression in an undramatic world, tries to create a play with the audacious character, Indrajit, who "sees life realistically and dreams about it romantically." His muse, Manasi, remains elusive, and the characters that he summons are mundane and undramatic, no different from the people around him.
Indrajit, created in the image of the writer himself, stands outside routine existence. Failing in his attempts at tying Indrajit to a plot, the writer faces a nightmarish writer's block that pushes him into a moment of literary crisis. As he grapples with the existential crisis of Indrajit, we are presented at once with a macroscopic view of our own life, in which everything seems to be stuck in a repetitive loop, without purpose, without essence.
"Evam Indrajit" is a timeless play that analyzes the question of identity, of the essence of life, against an apparently meaningless, existentialist backdrop. The audacious assertion of one's identity, one's essence, is what differentiates life from mere existence, random collections of particles of matter going round and round.
Cast: Abhishek Mutha, Anubhuti Sood, Archana Das, Pranav Patadiya, Shakti, Vijay S., Vishal Shah
Director: Vijay S.
Music: Sattvik Chakravarthy
Crew: Neeraja M Rajeev, Kishore VP, Rohit Bhasi, Suranjay Patil,
Dates: 4th, 5th June (Saturday, Sunday)
Contact details: Pranav Patadiya – 8050981598 // Tickets available at Book My Show