Date/Time
Date(s) - 12/07/2014
7:30 pm
Location
Alliance Francaise de Bangalore
Categories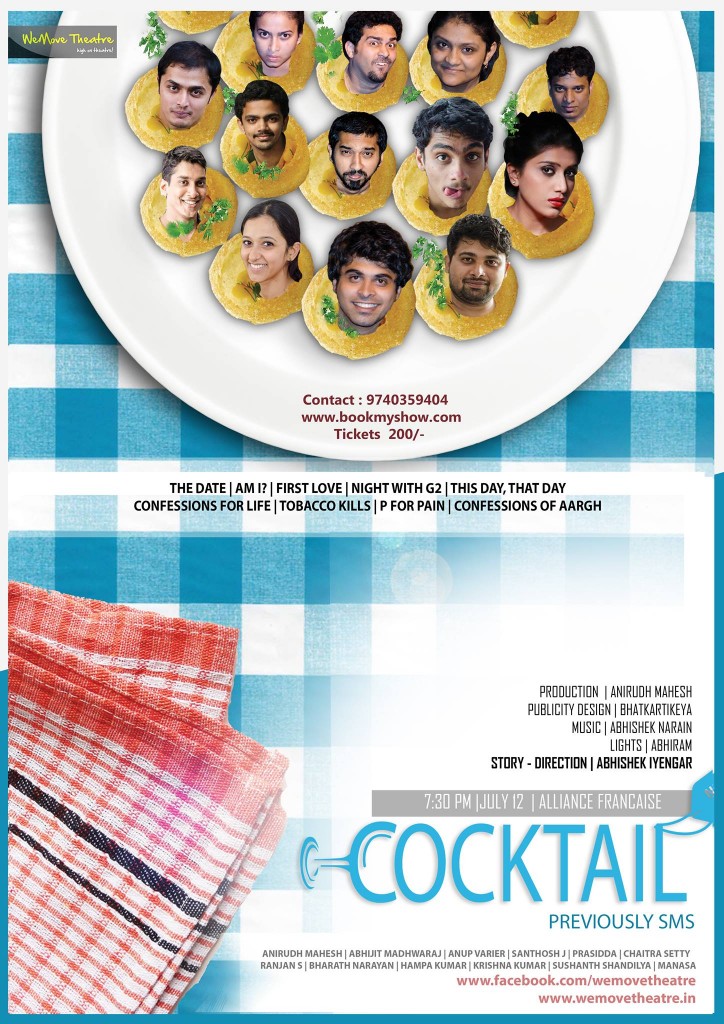 After successfully staging, Magadi Days P.S I Don't Love you, Namma Metro, MALGUDI DAZE,Bangalore's well known theatre group, WeMove Theatre which has completed 92 stage performances across India is now staging its 12thproduction, Cocktail, a play in English.
A sweet and spicy platter, a parody of varied circ,umstances, expressions and emotions all pulled in together in a single evening; that's Cocktail for you, the latest theatrical offering by WeMove Theatre. Cocktail is a collection of short plays directed and written by Abhishek Iyengar. The stories are completely independent to each other; Cocktail is a new experiment by WeMove to bring out experience of different genre of plays all together on one single stage. Very creatively the play can be coined as 'mixture of various emotions'. Innocence of a naive mind, joy and excitement of a heart fluttering with love , the frustrations and petty jealousies of everyday lives,  the tiny happy moments and regrets in each one's life and guilt of things done and undone. The acts portray these and much more, the sprinkling of random colors makes a complete canvas. Cocktail consists of 9 short plays each one of different emotion, expression and genre they are:-
1.       First love– The unmatched and irreplaceable joy and anxiousness
2.       Am I – a guys unending voyage for his miss perfect
3.       Confessions of life– Easier to let it be… Killing to confess and admit. Right?
4.       Confessions of an aaargh! – Notice the unnoticed.
5.       P for pain– What does your P stand for?
6.       The Date – "The date", precisely, a term self-explained
7.       Night with G2 – What happens when you encounter two strange people in your house on a night which turns out be the biggest surprise of your life.
8.       Cigarette- An inner self exploration of smoking by the protagonist of the play.
Cast:- Anirudh Mahesh, Srikanth B, Sushanth Shandilya, Anup varier, Bharath Narayan, Apoorva, Santhosh J, Prasidda A.P,  Krishna Kumar, Suraj K, Hampa Kumar
Lights:- Abhiram B
Live Music:- Abhishek Narain
Production: Krishna Kumar
Written and Directed by Abhishek Iyengar.
Tickets Rs 200, available on bookmyshow.com