Date/Time
Date(s) - 06/07/2019
3:00 pm - 9:30 pm
Location
Alliance Francaise de bangalore
Categories
Directed by Dr. Vasudev Menon
Date: 6th July
Time: 3pm to 5pm & 7.30pm to 9.30pm
Venue: AFB Auditorium
Passes: Rs. 250
All passes available on BookMyShow and at the venue before the show, on show days.
(For details contact: [email protected], +919922500481)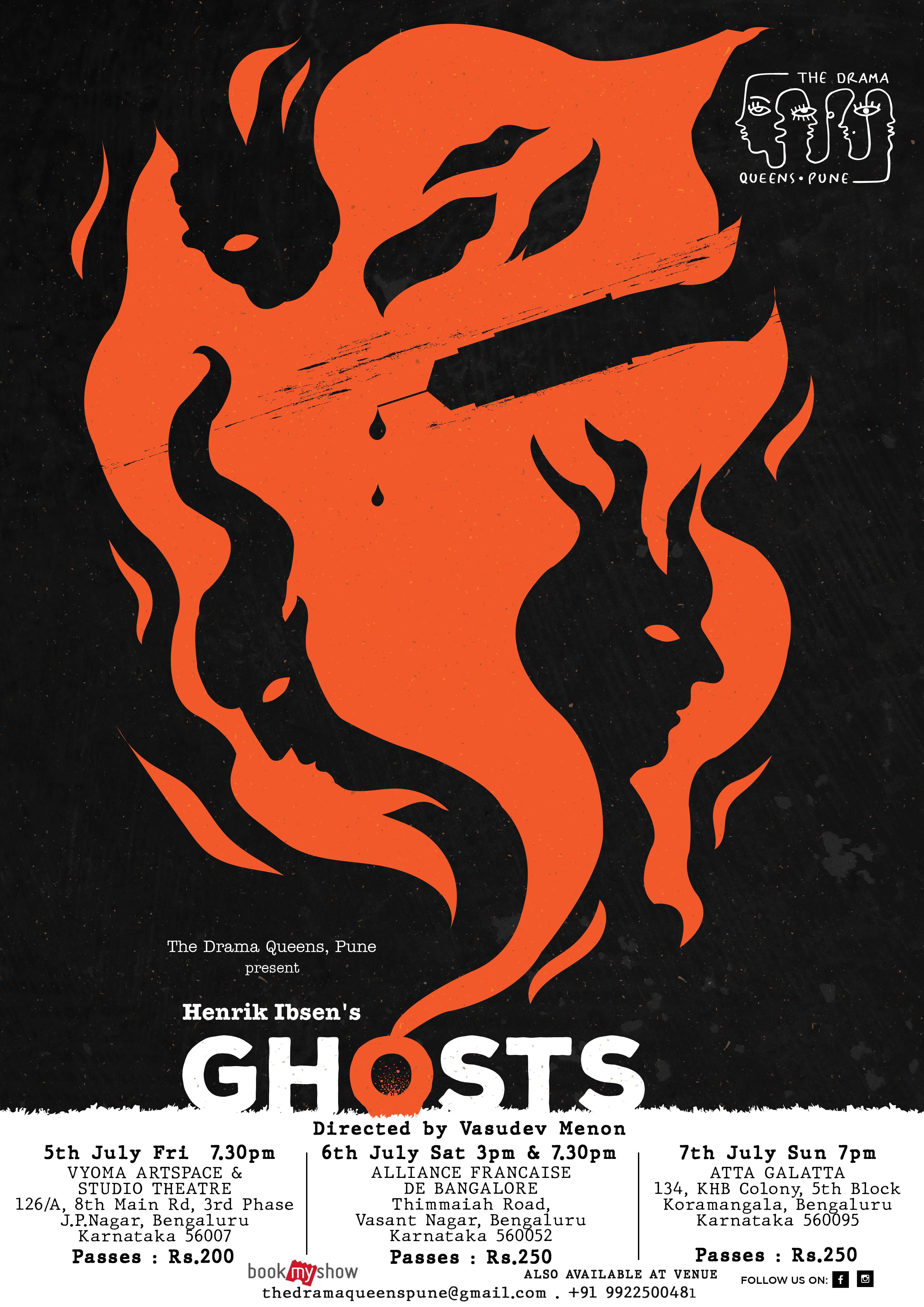 Here is the team telling you about the play, their interpretation of it, and the team.
Henrik Ibsen's Ghosts
Ghosts is a story of a woman whose life is determined by the norms of patriarchy. She has had an unhappy marriage with a philanderer with a mental illness. She has been compelled to manage the household and the business as well as make decision for everything and everyone, even her son. After great sacrifices, mental hardships and the death of her husband, just as life seems to be on track, she discovers that her son has inherited her husband's disease. The woman, the mother will be forced to do something unspeakable. This is a tale of love and hate, oppression and liberation, cowardice and courage.
Written in 1881, Ghosts remains one of the relatively under-explored of Ibsen's works in terms of dramatic performances. We attempt to lens the play through the conflicts of tradition and modernity. The Ghost to us is the metaphoric adherence to conventional value systems that overhang our negotiation with the changing times. At the same time, Ghosts for us has many parallels with Shakespeare's Hamlet. Not only do both the plays explore the themes of ghostly hauntings, madness and patriarchal control and oppression, but also the character graphs of Mrs. Alving, Oswald Alving, Regina, Engstrand and Pastor Manders echo and refract that of Claudius/Gertrude, Hamlet, Ophelia and Polonius. Finally and very importantly, we are eager to explore and present 'Mrs. Alving', one of theatre's early challenges to gender stereotyping.
Cast
Helen Alving : Ashwini Dasgupta
Oswald Alving : Isha Pungaliya
Jacob Engstrand : Mahesh Ramnathan
Regina Engstrand : Gargi Datar
Pastor Manders : Vasudev Menon
Crew
Digital Media publicity and PR : Gargi Datar, Isha Pungaliya
Lights & Sound : Rhea Gangavkar
Costume and Make-up : Anukruti Singh
Production Executives : Anushaa Deshpande and Chetna Anand
Production Manager : Nutan Burman
Design and Direction : Vasudev Menon
The Drama Queens
Theatre allows the Queens to make proximal all that which delights and torments us. We live through this world and look at it in artistic anticipation. Drama gives us a vantage point to look at history, politics and its lived realities. We recreate, originate and offer ideas that move us, ideas that have moved humanity for centuries and will continue to do so. We choose theatre for its directness. We choose it for its overwhelming existence as it unfolds in the actors, tangible through the vibrations of their bodies as they put forth the madness of love and the subtlety of violence.
Yes, we are dramatic. We command it, we rule it. We are its queens.
The Group
The Drama Queens is a theatre group in Pune that wishes to dedicatedly produce and perform theatre in English. Henrik Ibsen's Ghosts is our fifth production. Our first two shows of this play were on the 9 th June 2019 at the Aksharnandan School, 15th June 2019 at Raah Literary and Cultural Centre, Lullanagar and 30 th June at Jyotsna Bhole Sabagruha. These shows garnered us standing ovations at curtains. Following this, The Drama Queens travels with Ghosts to perform 4 shows in Bangalore over the first weekend of July. We intend to take this to Mumbai, Delhi, Goa and Chennai before the year ends.
Our previous work includes The Tempest, The Merchant of Venice and Hamlet. All of these were well received and reviewed. The Merchant of Venice was rated 4 stars in The Pune Times review. We were also invited to perform an Evening of Shakespeare's Scenes and Monologues by The British Council, Pune in 2016.
The group is comprised of people from various walks of life across a range of age groups. What holds us together is a focus and passion towards narratives that speak of tradition versus modernity, self, other and community, the workings of gender roles and spaces. In the coming years we want to continue our exploration of these ideas and themes both in terms of form and content.
Another and equally important ambition is theatre education. We are attempting to create a repertoire where actors, technicians of light and sound, production managers, designers and directors get trained under one roof. Eventually we would like to develop unique techniques and forms of theatre practice through long years of dedication to the art form.
Finally, The Drama Queens prides itself for the versatility of its female actors who often bend gender and comfortably play male roles.