Date/Time
Date(s) - 23/10/2015
7:00 pm
Location
Alliance Francaise de Bangalore
Categories
TALK: Magnum Photographer Chien-Chi Chang
7:00 pm | 23rd of October| Alliance francaise auditorium
At the Alliance Française de Bangalore, Chien-Chi Chang will present some of his major works in the photo essay and multimedia formats. This will be followed by a brief discussion with Chien-Chi led by photographer Mahesh Bhat.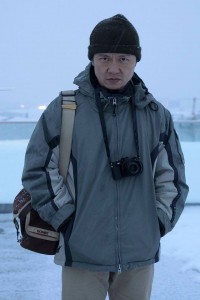 MAGNUM PHOTOGRAPHER CHIEN-CHI CHANG is dedicated to investigating the ties that bind one person to another, drawing on his own deeply divided immigrant experience.
In his work, Chien-Chi Chang makes manifest the abstract concepts of alienation and connection. "The Chain," a collection of portraits made in a mental asylum in Taiwan, caused a sensation when it was shown at La Biennale di Venezia (2001) and the Bienal de Sao Paulo (2002). The life-sized photographs of pairs of patients literally chained together resonate with Chang's jaundiced look at the less visible bonds of marriage. He has treated marital ties in two books—I do I do I do (2001), a collection of images depicting alienated grooms and brides in Taiwan, and in Double Happiness (2005), a brutal depiction of the business of selling brides in Vietnam. The ties of family and of culture are also the themes of an ambitious project begun in 1992. For 20 years, Chang has photographed the bifurcated lives of Chinese immigrants in New York's Chinatown, along with those of their wives and families back home in Fujian.