Date/Time
Date(s) - 29/05/2016
7:00 pm
Location
Alliance Francaise de Bangalore
Categories
RECITAL: Young Steinway Pianist Neville Bharucha
7.00 pm | 29th of May | Alliance Française auditorium
The VioVoi Music Academy in association with Furtados Musicals is pleased to present Young Steinway Pianist Neville Bharucha in concert in Bangalore at 7pm on May 29th 2016 at the Alliance Française de Bangalore. The winner of the 24th Ennio Porrino International Piano Competition Italy is set to play works by Ravel, Chopin, Bach and Messiaen among others.. Enjoy an evening of beautiful piano music.Tickets available at the concert. To book in advance, call 9741688344 or email [email protected].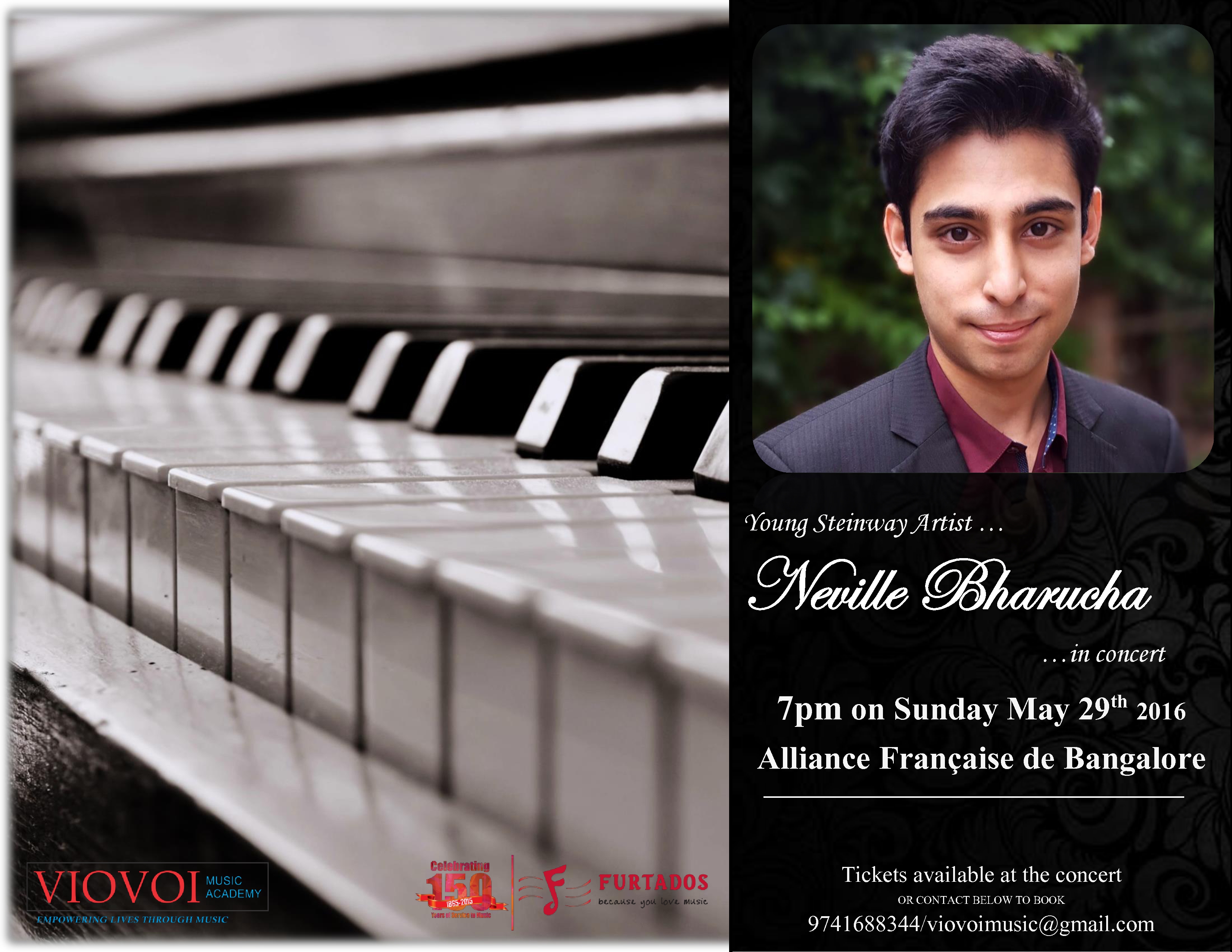 About the artist:
Neville has won competitions and has performed around the world. He returned from England two months back having completed his master in performance and composition with a distinction. You can read more about him in his profile below.
Neville, now 23 started piano lessons with his father when he was 4 and was soon composing short pieces. Neville began performing across India at the age of 10, He is the recipient of numerous music awards: Capt. Alvares Trophy for Excellence, Peter Coelho Memorial Award for Music, Fewkes Memorial Trophy for Outstanding Musician, to name a few. At 16, he earned his Associate Diploma from The Trinity College, London with distinction In December 2010, Neville performed in Houston with the World Zoroastrian Symphony Orchestra conducted by Farobag Cooper.
He placed first at the CON BRIO All India Piano Competition held in Mumbai in July 2011.Neville continued his piano studies in Bangalore with Russian concert pianist Natallia Kapylova while pursuing his undergraduate degree at St. Joseph's College of Commerce, Bangalore and also obtained his Licentiate Diploma from The Trinity College, London (LTCL) in 2011.
In November 2014, Neville earned his Master's Degree in Music Performance, with Distinction, from The University of Southampton, England, where he studied under renowned pianist and composer, David Owen Norris.
In Dec 2014, Neville gave solo recitals in the United States for The Zoroastrian Association of Greater New York. He completed his US tour with a performance of Beethoven's Emperor Concerto,with the World Zoroastrian Symphony Orchestra, under conductor Adil Mehta. In February and June 2015, he performed Saint-Saens' 2 nd Piano concerto with the Southampton Sinfonetta Orchestra.
He is the winner of the 24 the Ennio Porrino International Piano Competition held in Caglairi, Italy in Nov 2015. In February 2016, he awarded the Kerr Memorial Prize for Outstanding Musicianship at the Royal Overseas League Competition, London.
Steinway and Sons have endorsed him as a "Young Steinway Artist". Do click on the link to know more about this coveted title.
Neville has successfully completed a second Master's Degree in Composition for Moving Images at City University, London. He continues his piano performance studies in London with the world-renowned pianist Leslie Howard.
Neville will be performing on an Essex Steinway Grand Piano sponsored by Furtados Music for this concert.