Date/Time
Date(s) - 22/02/2016
7:00 pm
Location
Alliance Francaise de Bangalore
Categories
RECITAL: Serendipity – A Musical Confluence
7:00 pm | 22nd of February | Alliance Française auditorium
For more information contact: CherYsh | Tel: 080 41532970/ +919880457108 | email: [email protected] | www.cherysh.org / www.thebsm.net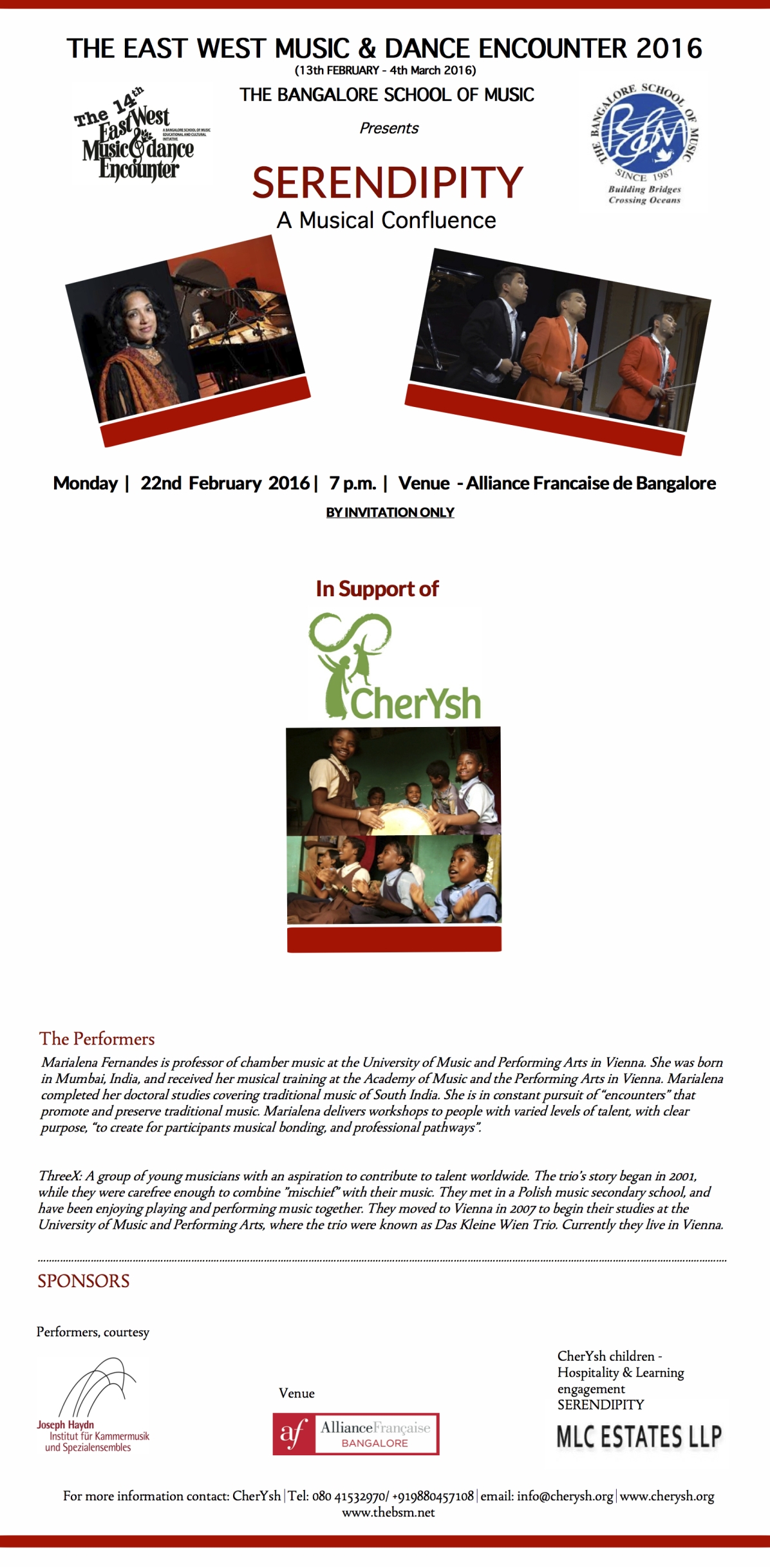 The Bangalore School of Music presents SERENDIPITY – a confluence of musical talent across borders. The concert will bring to Bangalore, world-renowned pianist, MarialenaFernandes, and three musicians – ThreeX – who she calls, "jugglers, clowns, great artists."
Marialena, and the trio, along with the Bangalore School of Music, have dedicated SERENDIPITY to CherYsh, an NGO that works to improve education, skills and livelihoods for girls and women in hard-to-reach rural populations in India. SERENDIPITY will give rural girls an opportunity to learn music through workshop engagements, contribute their traditional skills, and create a confluence with global musicians.
CherYsh is dedicated to education, skills and livelihoods in remote forested regions of HaliyalTaluk, Uttara Kannada district, Karnataka. The NGO runs after-school programs, vocational courses, and creates livelihoods through community kitchens. This work is done along three dimensions, for rural girls and women – Educate (Early learning), Prepare (Skills), and Secure (Livelihoods).
– The CherYsh Shikshas (After-School Learning Centres) target all-round development of children through quality support to their learning needs. The centres incorporate vibrant curricular and co-curricular modules. The focus is to improve crucial competencies such as English Language skills, Numerical skills (Math's), and Computer knowledge.
– The Shikshas also spot talent amongst children to encourage inter-disciplinary learning through music, sports, and performing arts. This facilitates crucial confidence-building, and competitive spirit.
– In the village, music is a way of life. People work, aspire, learn, and travel using music as a medium of expression. It's an ideal channel to excite, and enable learning.
– The Siddis of Haliyal are naturally inclined to music and sport. SERENDIPITY will help CherYsh set up new Learning Centres in the Haliyal region.
…………………………………………………………………………………………………………………….
MarialenaFernandes is professor of chamber music at the University of Music and Performing Arts in Vienna. She was born in Mumbai, India, and received her musical training at the Academy of Music and the Performing Arts in Vienna. Marialena completed her doctoral studies covering traditional music of South India. She is in constant pursuit of "encounters" that promote and preserve traditional music. Marialena delivers workshops to people with varied levels of talent, with clear purpose, "to create for participants musical bonding, and professional pathways".
ThreeX: A group of young musicians with an aspiration to contribute to talent worldwide. The trio's story began in 2001, while they were carefree enough to combine "mischief" with their music. They met in a Polish music secondary school, and have been enjoying playing and performing music together. They moved to Vienna in 2007 to begin their studies at the University of Music and Performing Arts, where the trio were known as Das Kleine Wien Trio. Currently they live in Vienna.