Date/Time
Date(s) - 25/05/2016
7:00 pm
Location
Alliance Francaise de Bangalore
Categories
RECITAL: An Evening in Paris
7.00 pm | 25th of May | Alliance Française auditorium
An evening in Paris : A French piano & Flute concert
Free and open to all
Natallia K Kapylova & Patricia wind-Smith will transport you to the French capital city featuring compositions by Paris-based masters like Debussy, Fauré, Gaubert, Damaré, Bizet, and a couple of extra Parisian suprises.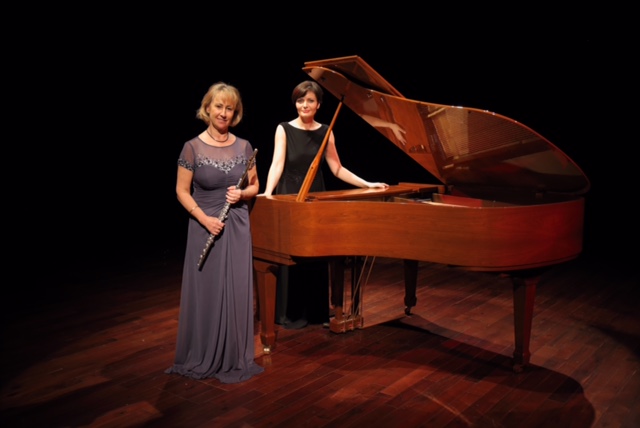 Programme
1. Philippe GaubertRomance (flute & piano)
2. Philippe GaubertDivertissement Grec (2 flutes & piano)
3. Albert RousselKrishna (flute & piano)
4. Claude DebussyArabesque #1 (piano solo)
5. Claude DebussySyrinx (flute solo)
6. Claude DebussyClaire de Lune (piano solo)
7. Jules Mouquet La Flûte de Pan (flute & piano)
8. Hector BerliozTrio of the Young Ishmaelites, Op.25(2 flutes & piano)
Entracte
9. Louis Claude Daquin Le Coucou (piano solo)
10. Eugène DamaréLe Merle Blanc (piccolo & piano)
11. Benjamin GodardAllegretto (flute & piano)
12. Gabriel FauréSicilienne (flute & piano)
13. Astor PiazzollaAdiós Nonino (piano solo)
14. Claude Bolling Affectueuse (alto flute & piano)
15. Claude BollingVagabonde (flute & piano)
16. François BorneFantaisie Brillante on themes from Bizet's Carmen
Natallia K. Kapylova
Natallia was born in Belarus, where she started playing the piano aged 7. She continued her training at the Belarus State Conservatory under Professor Yushkevitch and graduated successfully with a degrees in Classical Piano Performance, Chamber Ensemble Artist and also a Concermaster Diploma. After this, she worked as a Concertmaster at the Belarus Academy of Music and as a piano teacher at the Belarus College of Arts.
In 2002 she moved to India, first to New Delhi and then to Bangalore. She has continued to teach, preparing many students for exams and competitions. Natallia is also much in demand as a performer both as a soloist and collaborative artist with other musicians.
Patricia Wind-Smith
Patricia started learning the flute in UK aged 11. She studied at the University of London and afterwards gained a Postgraduate Certificate in Education, with specialism in flute teaching. She holds the ABRSM Diploma and 'Licentiate performers' exams, both with distinction, and her main flute teacher was Paul-Edmund Davies (principal flute, London Symphony Orchestra 1984-2004).
Patricia started her teaching career in London,but has since lived and worked in Brunei Darussalam, The Netherlands, Nigeria, Oman, Qatar, and now Bangalore, India. She has taught many young flute players over the years and has also played in a many different chamber ensembles with musicians of all nationalities.