Date/Time
Date(s) - 05/07/2015
5:00 pm
Location
Alliance Francaise de Bangalore
Categories
PLAY READING: Cyrano de Bergerac
5:00 pm | 5th of July | Alliance Française classroom 7
Bangalore little theatre celebrates the famous French dramatist & duelist.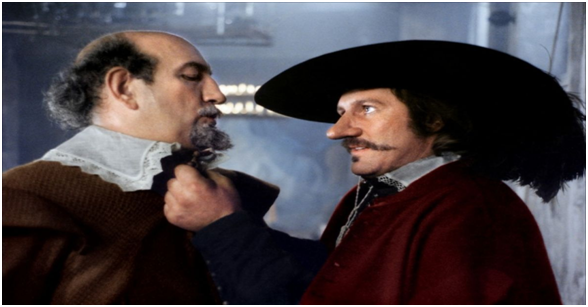 In Paris, in the year 1640, a brilliant poet and swordsman named Cyrano de Bergerac finds himself deeply in love with his beautiful, intellectual cousin Roxane. Despite Cyrano's brilliance and charisma, a shockingly large nose afflicts his appearance, and he considers himself too ugly even to risk telling Roxane his feelings. One night, Cyrano goes to the playhouse at the Hotel de Bourgogne to make trouble: he has forbidden the actor Montfleury to take the stage for one month, but Montfleury plans to perform in the night's production of La Clorise, with Roxane in the audience. Also in the audience is a young, handsome nobleman named Christian, who confides in his friend Ligniere that he loves Roxane. We shall discover who wins Roxane eventually, the young Christian or the rather large nosed yet talented duelist Cyrano?
WHEREVER a translation of the famous Cyrano de Bergerac exists, the lasting fame of the French poet-dramatist Edmond Rostand is assured. In fact, all three of his best known plays … Cyrano, L'Aiglon, and Le Chanticler … stand alone in the roster of romantic plays. The gorgeous rhythm of the poetry, for example, in Cyrano; the sheer audacity of a most unusual hero; and, finally, the beauty of the sentiment place this play in a class by itself with the best of Sophocles, Shakespeare or Molière.
SUBJECT TO CHANGE!
This play reading is a part of the Alliance française de Bangalore and Bangalore Little Theatre partnership.