Date/Time
Date(s) - 21/05/2015
9:30 am
Location
Alliance Francaise de Bangalore
Categories
KAWAI Junior Piano Competition 2015
9.30 am onwards | 21st of May | Alliance française auditorium
The KAWAI Junior Piano Competition is brought to you by THEME Music Company, in association with the Majolly Music Trust. The mission of the Kawai Junior Piano Competition is to encourage and to promote musical culture among children and youth by holding an annual piano competition which showcases the talents of gifted participants from all over India and provides opportunities for music appreciation, better musical understanding, and interactions with distinguished teachers for further musical growth.
For 2015, the focus will be on pieces from the Baroque and Romantic Eras. 2 pieces from each Era will need to be selected.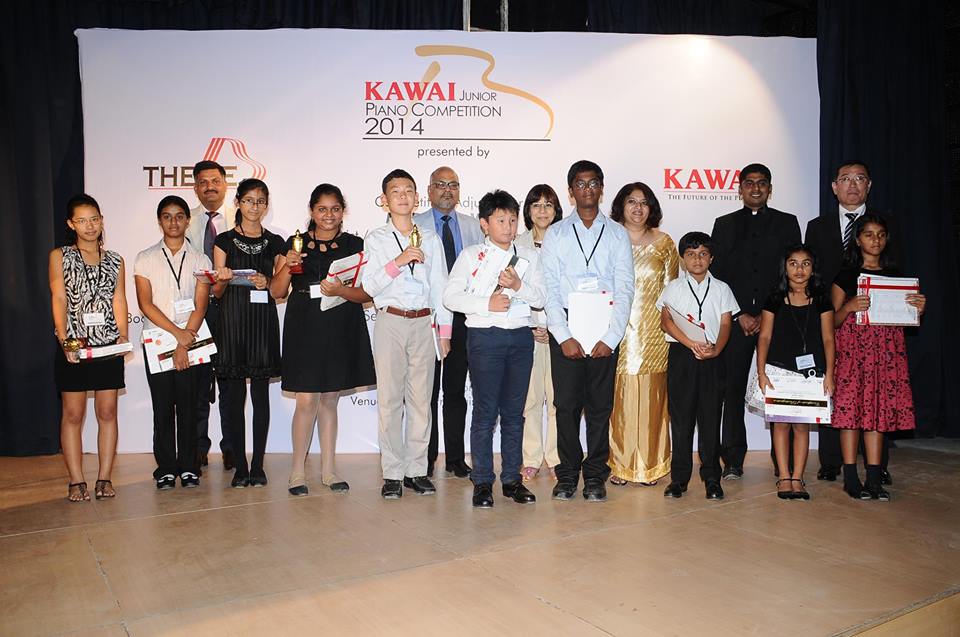 Schedule for the day
9:30 am onwards : Candidates Report at Venue for Tryouts (Optional)
10am -12 Noon: Tryouts on the Competition Piano. 10 mins per participant. (Only Participant and Teacher can enter the Competition Hall for the allocated time to work with the piano). Please verify your ID Proof and pieces to the Volunteer at Registration Desk who will usher you in.
2:30 pm: Reporting for the Preliminary Round. Verification of ID, Pieces, Name Spellings. The Order of Performing Candidates to be selected by drawing of lots.
3pm-5pm: The Preliminary Round of KAWAI Junior Piano Competition 2015. Each participant will be playing 2 pieces (One each from Baroque & Romantic Styles). These pieces are selected by drawing of lots at the Hall. The Round is open only to participating students, their teachers and parents. There will be no time to try out the piano.
6pm-7:30pm: Top 10 Performers will be announced and they will proceed to perform their Prepared four pieces. Announcing of the Winners, Participation Certificates to be handed out to all present Participants.
Competition Adjudicator: Ms Natalia Kapylova
Chief Guest: Mrs Gita Chacko
Competition Convenor: Ms Neecia Majolly
RULES AND REGULATIONS
1) The Competition is open to all pianists up to 13 years of age.
2) The participant should be from Grade 1-3 standard, and should have proof of entering ABRSM/TRINITY GUILDHALL/LCME examinations in 2014.
3) The competition is open to all citizens and residents of India.
4) PRIZES
SOLO ROUND: First, second and third prizes, as well as a prize for Most Promising Pianist, and certificates of participation will be awarded.
1st prize: KAWAI DIGITAL PIANO CN 25 and gift voucher from Alfred Publishing
2nd prize: INR 21,000/- and gift voucher from Alfred Publishing
3rd prize: INR 11,000/- and gift voucher from Alfred Publishing
5) REPERTOIRE: Candidate will be required to perform 4 pre-approved pieces (2 each Baroque and Romantic styles).
6) Participants will be required to wear badges, as are teachers and accompanying parents/guardians. Under no circumstances will participants be allowed to discuss competition results or queries with the adjudicator; all questions should be directed through the Convener. Contravention of this rule can lead to disqualification.
7) Adjudicators will not be able to enter participants for the competition.
8) All repertoire needs to be performed from MEMORY
9) All contestants must give credit for all awards won in the KAWAI JUNIOR PIANO COMPETITION in all future publicity.
10) THEME MUSIC reserves the right without payment of fees, to record and distribute recordings for media and other purposes, including the Internet, and to televise, broadcast, film, record, videotape, photograph or live stream all stages of the competition, all prize performances and concerts.
11) By applying to the competition, applicants agree to abide by all the rules and regulations.
13) The Competition reserves the right to make necessary changes as circumstances dictate.
14) KEEP COPIES OF ALL APPLICATION MATERIALS.  Acknowledgement of your application will be sent to you by email.  If you do not hear from us within ten working days, contact us immediately.
15) Please bring a valid ID Proof for verification
16) The adjudicator's decision is final.
17) Kindly maintain complete silence through the program.
18) Competitors are required to dress formally
_______________________________________________________________________________
Competition Adjudicator: Ms Natalia Kapylova
Natallia has been hailed as a concert pianist of exceptional, brilliant and dazzling ability. Her career is unique in spanning a huge range of musical settings. Breathtaking displays of classical and jazz masterpieces are stirred with love and passion. Exploration of different genres of music, old and new, is her forte. Born in Belarus, Natallia lives in Bangalore, where she gives performances as a soloist besides collaborating with other musicians. Today, Natallia is much sought after as a piano virtuoso, accompanist and educator.
Chief Guest: Mrs Gita Chacko
Gita Chacko is a prominent music educator in the city. Her pupils are among the best this country has produced, with some pursuing music as their career. Her pupils have won several National Level Piano Competitions. She also has adjudged National Level Piano Competitions. She was the Regional Coordinator of the ABRSM Exams in South India for over 20 years. In 1997, she formed and registered the Forum for Teachers of Western Classical Music in Bangalore.
Competition Convenor: Ms Neecia Majolly
Neecia Majolly is a leading Indian concert pianist, conductor, singer, teacher and composer. Neecia is the Founder-Trustee of the Majolly Music Trust, which aims to raise the standard of Western Classical Music in India and has the unique distinction of having created a pension fund for aged and infirmed musicians due to absence of any framework of social security in India.