Date/Time
Date(s) - 05/04/2014 - 06/04/2014
3:30 pm - 9:00 pm
Location
Alliance Francaise de Bangalore
Categories
by Mad Hats Theatre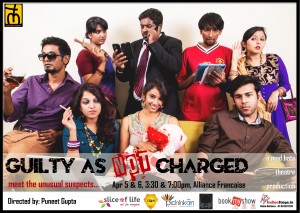 …a modern tale of could've, should've, would've. 
A delayed payment on an electricity bill? A belated birthday wish? A lost job opportunity? An expired medical prescription? A missed last bus back home?
Don't you sometimes wish you could've turned back time? Or wonder what youwould've done if you had a crystal ball to gaze into your future? Does the realization of what you should've done come find you looking over your shoulder?
Mad Hats Theatre brings to you an original play that would change the way you think and feel about relationships. The play is an ode to the urban middle class of today, and explores a complex jungle of relationships of a family and a circle of friends – a tumultuous ride of emotions that would leave you surprised at every turn. It exposes the underbelly of human psyche that would make you wonder about more than the story being told.
Contact Person: Anurag Maheshwari, 9900102587
Ticket Cost: Rs 200
2 shows: 3.30pm and 7pm