Date/Time
Date(s) - 18/03/2015
10:30 am
Location
Alliance Francaise de Bangalore
Categories
FRANCOPHONIE FESTIVAL: Haïku workshop
10.30 am | 18th of March | Alliance Française médiathèque
CANCELLED
Haïku (hahy-koo) are short poems that use sensory language to capture a feeling or image. They are often inspired by an element of nature, a moment of beauty, or another poignant experience. Haiku poetry was originally developed by Japanese poets, and the form was adopted (and adapted) by virtually every modern language, including French.
Prof. Vaidehi will be conducting a Haiku workshop at our library MSdB on 18th March from 10.30 am to 12noon. On registration, first come first services – 15 persons only (A2 & B1).
To participate, please write to [email protected] with your name / level / name of prof. before 17th March (noon).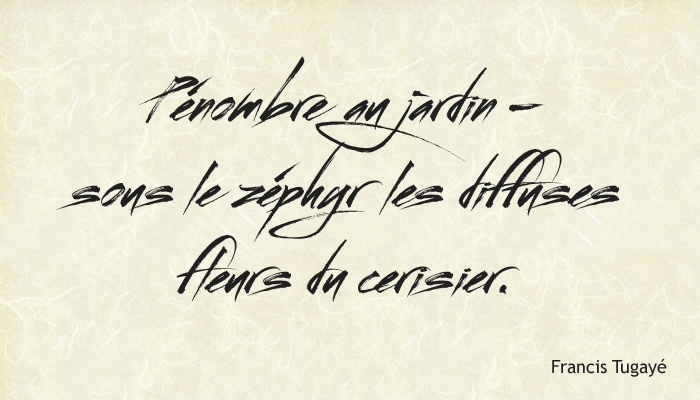 This workshop is a part of the Francophonie week. Organised every year around the 20th of March, which is the « International Francophonie day » as well as the International week of Francophonie and the French Language, this event is the annual rendez-vous of the lovers of French language across the world.