Date/Time
Date(s) - 07/03/2014 - 09/03/2014
All Day
Location
Alliance Francaise de Bangalore
Categories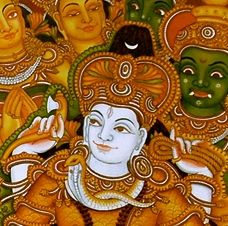 Alliance Francaise de Bangalore and Kondoor Foundation invites you to an exposition of the ancient Kerala mural art.
With the Arabian Sea in the west, the Western Ghats towering 500-2700 m in the east and networked by 44 rivers, Kerala enjoys unique geographical features that have made it one of the most sought after tourist destinations in Asia. Kerala is rich in arts, music and culture and is home to some of the most enchanting and ancient forms of art which is distinctive to the state.
Kerala mural paintings are frescos depicting mythology and legends, which are drawn on the walls of temples in Kerala. Murals are estimated to have existed for more than a thousand years and references to this art can be seen is many ancient sanskrit texts. The most authoritative of these is the Dharmottara puranam which was supposed to have been written 1500 years ago. Nine chapters of this texts named Chitrasoothram explains the science of this mural art. Today most of this art is lost though the earliest available murals in kerala still date back to the 15th and 16th century.
The Indian School of Art based in Kochi, headed by Sasi Warrier, has done pioneering work in the recovery and preservation of this art. The school has created the worlds largest mural depicting a single theme based on the science of mural art as elaborated in ancient texts related to this art form. The mural depicts various forms of Lord Shiva along with more than forty other gods and celestial beings.