Date/Time
Date(s) - 03/10/2014 - 05/10/2014
All Day
Location
Alliance Francaise de Bangalore
Categories
3-5 Oct, all day
EXHIBITION: Art Exhibit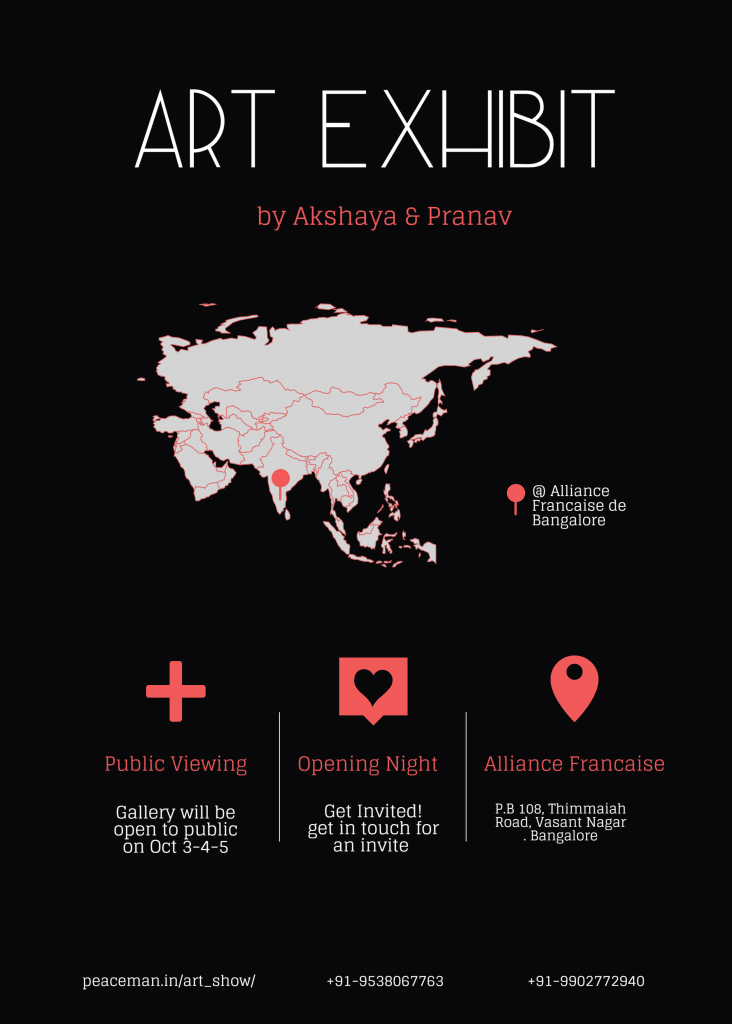 Over their first­ever collaborative art exhibition, Akshaya Krishna and Pranav K present a series of paintings and installations in an effort to provoke a reaction – any reaction. The exhibition, scheduled for 3, 4 and 5 October at Alliance Française de Bangalore, will feature works that traverse a variety of different mediums and styles, from resin paintings and oil on canvas to sculpture installations. Given the eclecticism of the show's contents, the artists are careful not to ascribe a single, unifying theme to their works – they've coyly called the show an "Art Exhibit" for this reason. Together, they've created a collection of images and experiences that are both delicate and devious, such as paintings of haunting landscapes and artworks of surreal, imagined characters, bordering the abstract.
Supporting the show will be two speakers: Anil Kumar, an art history professor from Karnataka Chitrakala Parishath who also writes for art magazines like Art&Deal and various online publications, and culture connoisseur Ishwar Shankar, Founder of Control Room Studios, a Bangalore­based sound production studio.
Akshaya and Pranav open their exhibition on Fri, Oct 3 at Alliance Française de Bangalore,Thimmaiah Road, Vasant Nagar (4123­1340). To register for an invite to the opening night event, visit peaceman.in/art_show/. TilSun, Oct 5. For any press­related queries, call 9900293803.