Date/Time
Date(s) - 30/10/2015
6:00 pm
Location
Alliance Francaise de Bangalore
Categories
EURAXESS : 3rd Global Science Slam
6.00 pm | 30th of October | Alliance Française auditorium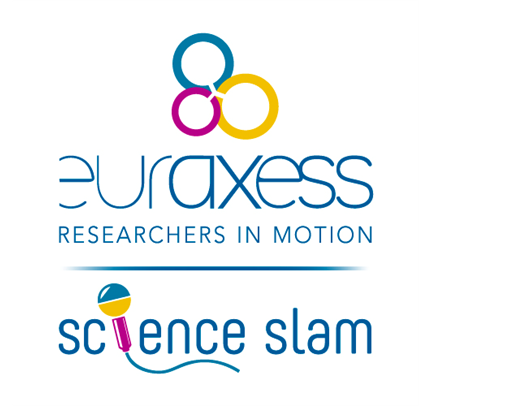 The EURAXESS Science Slam India 2015 is here (watch the official trailer on YouTube). Don't miss your chance to visit a research institute of your choice and more in Europe with us!
The third global EURAXESS Science Slam is organised in ASEAN, Brazil, China, India, Japan and North America by EURAXESS Links. In India, up to 5 young researchers who made it through the first round will battle it out for the title of "EURAXESS Science Slammer India 2015" in the LIVE finals held in Bengaluru, 30 October 2015.
First prize is a free trip to Europe to visit a research institute and more!
Come support them with your friends! The audience will be choosing the winner! The LIVE finals will also be a good networking opportunity for researchers of all nationalities, industry and representatives of European Embassies. To help in this fun, memorable and fruitful evening, European style food will be offered to the participants.
To enjoy an evening of SCIENCE & FUN register by writing an e-mail to [email protected] until 28 October 2015.
Partners: the Indian Institute of Science and IndiaBioscience. Alliance française Bangalore is supporting this event together with Finnair and Philips Innovation Campus.
About the competition: The competition has two stages: (i) the 'Virtual' pre-selection (online) where candidates will submit a short video in a creative, entertaining and accessible way; and (ii) the Live Finals where the finalists will perform in front of the review panel and a mixed audience who will choose the winner. Registration to be part of the audience will open in late September. Stay tuned!!
The 1st prize this year will be the EURAXESS Science Slammer title and a round trip to Europe to meet European Commission officials and attend a 1-day science communication training in Brussels and to visit a research institute of the winner's choice in the European Union in 2016.
Send your video and become one of the 5 finalists to receive a short science communication training on 17 October 2015 in Mumbai and to compete in the LIVE slam on 30 October 2015 in Bangalore! Save both dates on your calendar!
Online submission of slam presentations: 10 July – 20 September 2015 // Registration details on the EURAXESS website.