Date/Time
Date(s) - 07/09/2018
7:00 pm - 9:00 pm
Location
Alliance Francaise de bangalore
Categories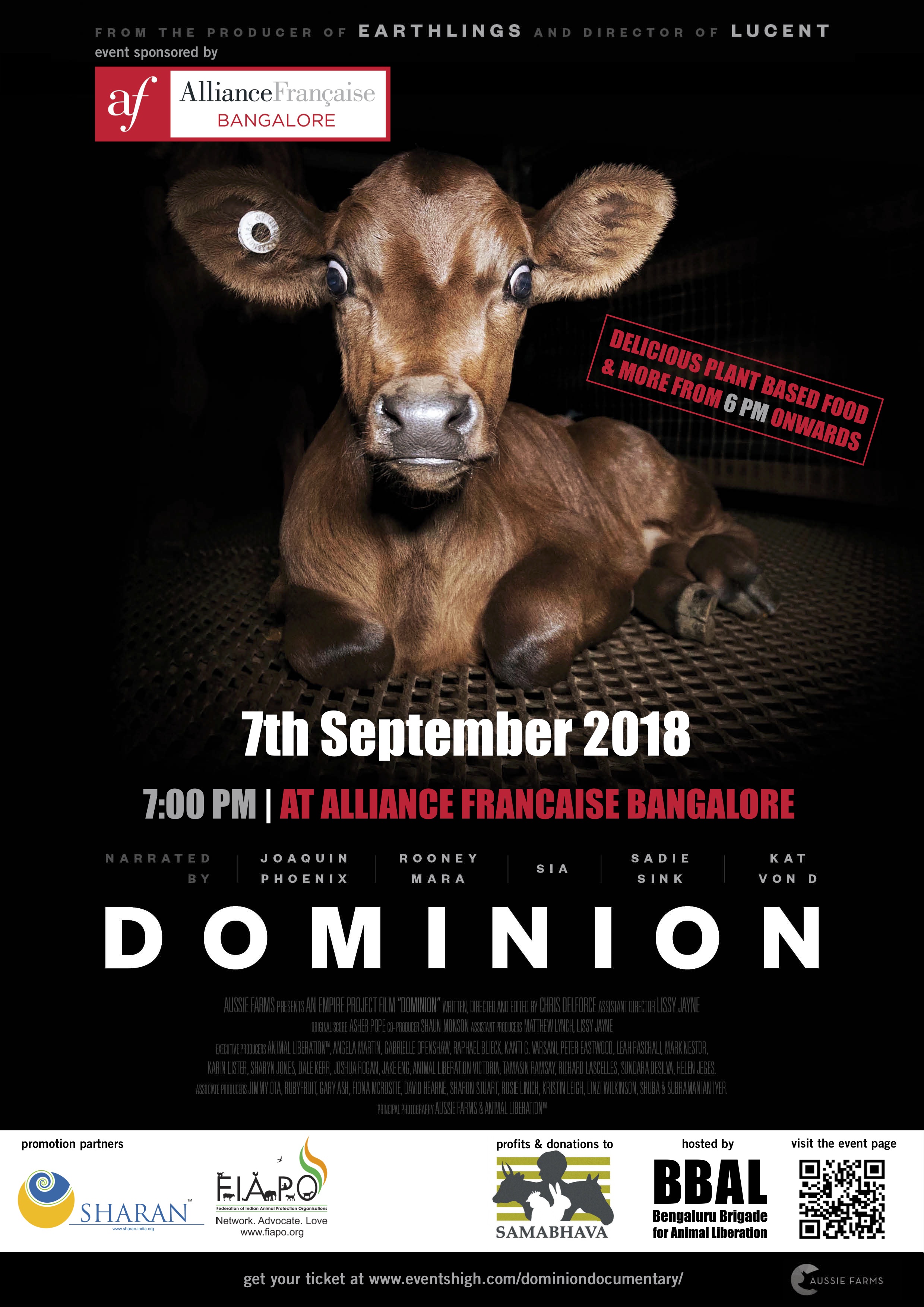 We, BBAL, are here to invite you to this vital and crucial screening of Dominion, a cardinal two-hour
documentary that showcases the hidden truth and effects of the animal agricultural industry which
controls the entire lives of sentient beings.
The screening of Dominion matters not just in unmasking global practices, but also to propel the new
generation to respect clarity and honesty, freedom of information and to hold the companies that drive
our economy accountable for their practices.
The visuals are lead with narrations from a number of celebrity-activists like: • Hollywood actor Joaquin
Phoenix (Golden Globe Best Actor Award) • Hollywood actress Rooney Mara (Cannes Best Actress
Award) • The famous tattooist, author, entrepreneur and television personality Kat Von D • And
Australian singer and Grammy-award singer/song-writer Sia.
The documentary is directed by Chris Delforce, who also directed Lucient (2014), an expose on pig
farms. It is co-produced by Director Shaun Monson, who directed the world-famous documentary
Earthlings (2005), which was one of the first documentaries to expose industry practices in the USA, and
has shaken the world.
Bangalore and India has had its first screening in the first week of August, and we were energized by the
response from the attendees. We are extremely thrilled to share this second, bigger screening with all
of you.
This film manifests modern animal agriculture through drones, hidden & handheld cameras. It explores
the virtue and viability of our dominion over the animal kingdom. The film accentuates the ingrained
acceptance of global practices that are considered legal and deemed "humane." Slavery was "legal",
apartheid was "legal", killing animals is "legal". Legality is a construct of the dominant, not of justice.
In the age of fake news, corporate propaganda and oppression of disapproval, bringing truth to the
public has become a democratic liability. It aims to take away the blindfold that we have grown up with,
that we've had reinforced through all aspects of our lives, and most people are truly (and rightly)
shocked when they learn the truth.
The schedule on the 7 th of September is as follows:
6pm to 7pm – Pre-show with sale of delicious plant-based food
7pm – Screening of Dominion (with French subtitles)
9pm – Q&A session