Date/Time
Date(s) - 23/02/2019
4:30 pm - 7:00 pm
Location
Alliance Francaise de bangalore
Categories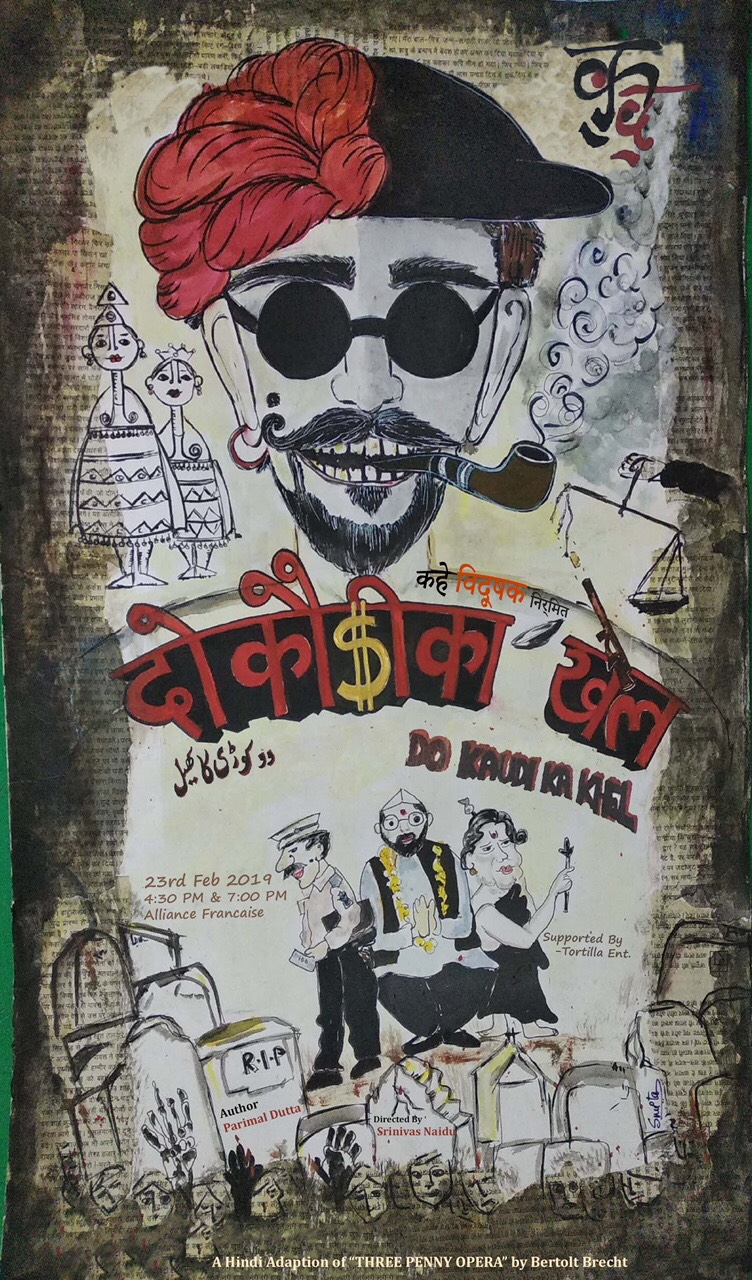 'Do Kaudi ka Khel' is a new comedy musical performed in Nautanki style, a first of its kind in Bangalore, to be premiering on 23rd February 2019.
The play is a satire with universal appeal as it highlights the degradation of values. It revolves around certain characters that entertain the audience while giving an important message against corruption, the burning problem facing the world, particularly in developing countries like India.
As part of this play, the artists have undergone training for Folk Singing and Jharkhand based classical dance, Chhau under the able guidance of Padma Shri Gopal Prasad Dubey.
Synopsis
'Do Kaudi ka Khel' is a Hindustani adaptation of German playwright Bertolt Brecht's popular play 'The Threepenny Opera' by Parimal Dutta. It bares the rise of the corrupt in different realms through unethical means. 'The Threepenny Opera' in turn was originally based on John Gay's 'Beggar's Opera'. Dutta had made certain aberrations to structure the play in present day's Indian milieu.
The play is a satire with universal appeal as it highlights the degradation of values.
To make the play more relevant for illustrating the theme, the plot has been woven around diverse characters like beggars' gang, dacoits and police. The beggars get tired of begging and resolve to opt for vocations like politics. While many become political leaders and claim old association with martyrs like Ram Prasad Bismil, Bhagat Singh, others prefer to be modern dacoits who commit crimes in cities and not in ghats or jungle.
Details of the show:
Venue: Alliance française de Bangalore
Date: 23rd February 2019
Time: 4.30 PM and 7pm
Language: HINDI
Duration: 100 minutes
Cast & Credits
Playwright: Bertolt Brecht
Translated to Hindi by: Parimal Dutta
Directed by: Srinivas Beesetty
Chorus 1: Himanshu Prasad
Chorus 2: Suryansh Pratap
Chorus 3: Alok Mohanty
Phullan Rani: Vandana Dugar
Bhayanak Singh: Amit Suthar
Rampyaari &Choreographer: Ankita Jain
Manmohini: Chandni Mittal
Narhari Poddar: Devashish Singbal
Policepati Pandey: Arun Kumar
Singers: Karuna Chandwani, Anjali, Srinivas
About the director:
Srinivas Beesetty is a passionate and trained theatre practitioner with over 14 years of experience in the field of acting, writing and direction. Holding a diploma in Playback Theatre from Christ University, his interest in theatre began in 2005 when he associated himself with PATH (Peoples' Association for Theatre), Jamshedpur and performed Proscenium, Street, Mime and Monologues as an actor as well as a writer and director. A trainee from National School of Drama, his achievements include winning awards at many national-level theatre competitions in India. His association with IPTA has helped him in taking part in rural government-aided projects in the form of street plays. He runs a theatre group called 'Kahe Vidushak' purely dedicated to theatre productions and classes on Natyashastra.
Under his directorial helm and as a founder of Kahe Vidushak, he has steered the group to win awards at the recently concluded international theatre festival in Bareilly and national theatre festivals at Mumbai and Munger (Bihar)
About Kahe Vidushak:
It is a troop of theatre practitioners with a cumulative experience of over 35 years in proscenium and playback theatre. It produces theatre events as a joint effort. Each individual who belongs to the group contributes time, effort and money to stage the production. Everyone in the group may or may not have a part onstage but takes up other production responsibilities. This initiative is a bid to create new theatre talent, impart production knowledge and create a team of committed theatre artists. Kahe Vidushak is about making criticism less venomous, a hint that the king has to take.