Date/Time
Date(s) - 20/04/2014
7:00 pm
Location
Phoenix Market City
Categories
at Phoenix Marketcity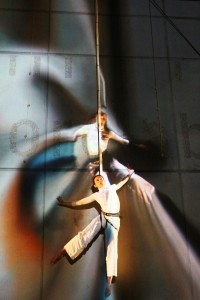 Site specific solo for urban space with screened images transformed live.
The images screened on the wall constitute the space of evolution of the dancer. A dance of expansion gets organised, it will be conjugated during the show with variable amplitudes, from the most interiorised to the biggest ones. The technique will allow us to create vertiginous visual zooms.
We shall make shots from above, from the front. Those sequences will be the foundation material which will be transformed real-time with the Méta-Mallette used by Fabrice Guillot.
The female dancer evolves on a wall suspended on elastic, which enables on-the-spot movement, in lateral swaying and the vertical dimension. This façade which has never recorded a step, this free space in town, invisible, is the site of a sensory and gravitational experience for spectators.
The Méta-Mallette (software developed by PUCE MUSE) provides an intimate link of causality between dance and image in the service of our «narration». Images do not create a double or a partner for the interpreter. They are born out of her sensation. She dances in the bath of her inner experience.
This event is part of the "DanSe DialogueS" festival organized by the Embassy of France in India, Institut Francais and Alliance Francaise network.
Contact 080-40808181 / [email protected]
Information on Retouramont:
Choreographer : Fabrice Guillot
Dancer : Olivia Cubero
Technicien : Fabrice Guillot
Images : Fabrice Guillot
Software developped by Serge de Laubier / Méta-Mallette PUCE MUSE
Music : FM Einheit : Erscheinung der Tôchter and Prolog from Prometheus Lear / Wowen Hand : My Russia (Standing on hands) and Another White Bird from Blush Music
Producers :
Conseil Général de la Moselle, Dancin'Oxford Festival /Angleterre, Théâtre de Cachan, Le Grand Théâtre de Lorient – with the logistical support of MTD d'Épinay-sur-Seine, et l'Avant Rue/Friches Théâtre urbain.
The company has received aid for its creation and functioning from the Conseil Général du Val-de-Marne and aid for the creation and performances from Conseil Général de l'Essonne.
This project has benefitted from « Écrire pour la rue » 2010 Ministère de la Culture – DMDTS/SACD and from  «Auteurs d'Espace Public» 2011 SACD and has received aid for theatral production in 2011 from the Ministère de la Culture et de la Communication / DRAC Ile-de-France
Its partners are the companies BEAL et PETZL.