Date/Time
Date(s) - 28/11/2014
7:30 pm
Location
Alliance Francaise de Bangalore
Categories
DANCE: Itiha by Nrityanidhi
7:30pm | 28th of November | Alliance Française auditorium
Nrityanidhi brings to it's audience, a brand new theme and for the very first time, "ITIHA: derived from tradition"!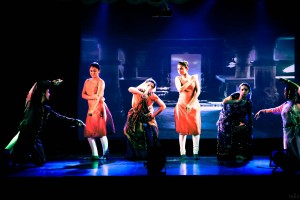 Itiha is going to be a colourful, musical, energetic presentation or rather, re-presentation of tradition!! India, as a country has such a rich cultural heritage!! We have had influences of poets like Amir Khusro and folk musicals that reflect the fragrance of our soil!! Today, these influences show in modern music like 'Sawaar Loon' from Lootera, 'Pathaka Guddi' from Highway or even the south Indian classic 'Alai Payuthey' from the Tamil version of the film Saathiya!! Nrityanidhi brings you this all, on a platter of choreographic pieces. The traditional and soulful  'Lal Meri Patt' and 'Kesariya Balam' included!
Tickets: Rs.300/- & 250/-
Contact: 8123436531 / 9986761667
Nrityanidhi, is a unique, ten year old dance institution, that believes in 'Spiritual Exuberance Through Dance'. With immense respect for Indian classical art, the founder, Shoma Kaikini, has innovated her own ingenious style of Dance that uses Kathak in varied genres of music, and presents soulful choreographic works!                    
Nrityanidhi has successfully established itself in two cities of India. Mumbai, in 2005 and Bangalore, in 2010. The institution has a professional performing troupe that has performed in several locations in Mumbai, Bangalore, some places in India and overseas. The most colourful feather in the cap, is when the troupe represented India among 36 other countries, at the 'Nanning Folk Art Festival' in China.
Nrityanidhi aims at spreading joy and spiritual oneness through its performances and the accolades have simply fuelled the divine purpose!! 
Shoma has been conferred the "Youth Icon" twice, at her hometown, Bangalore. She has received the "Global Youth Leadership Award" from the Youth Congress Committee in Delhi.