Date/Time
Date(s) - 19/08/2016
7:30 pm
Location
Alliance Francaise de Bangalore
Categories
CONCERT: Simply Schubert
7.30 pm | 19th of August | Alliance Française auditorium
Simply Schubert – an eclectic mix of flowing male-choruses, tender and dramatic lieder and sparkling piano solos, presented by The Bangalore School of Music.
The program will showcase the musical genius of Schubert, with some of his most beloved choruses for male choir, such as Vier Gesänge, Ständchen (with soprano solo) and Der 23rd Psalm, together with immortal lieder such as Erlkönig, Gretchen am Spinnrade and pieces from Schwanengesang.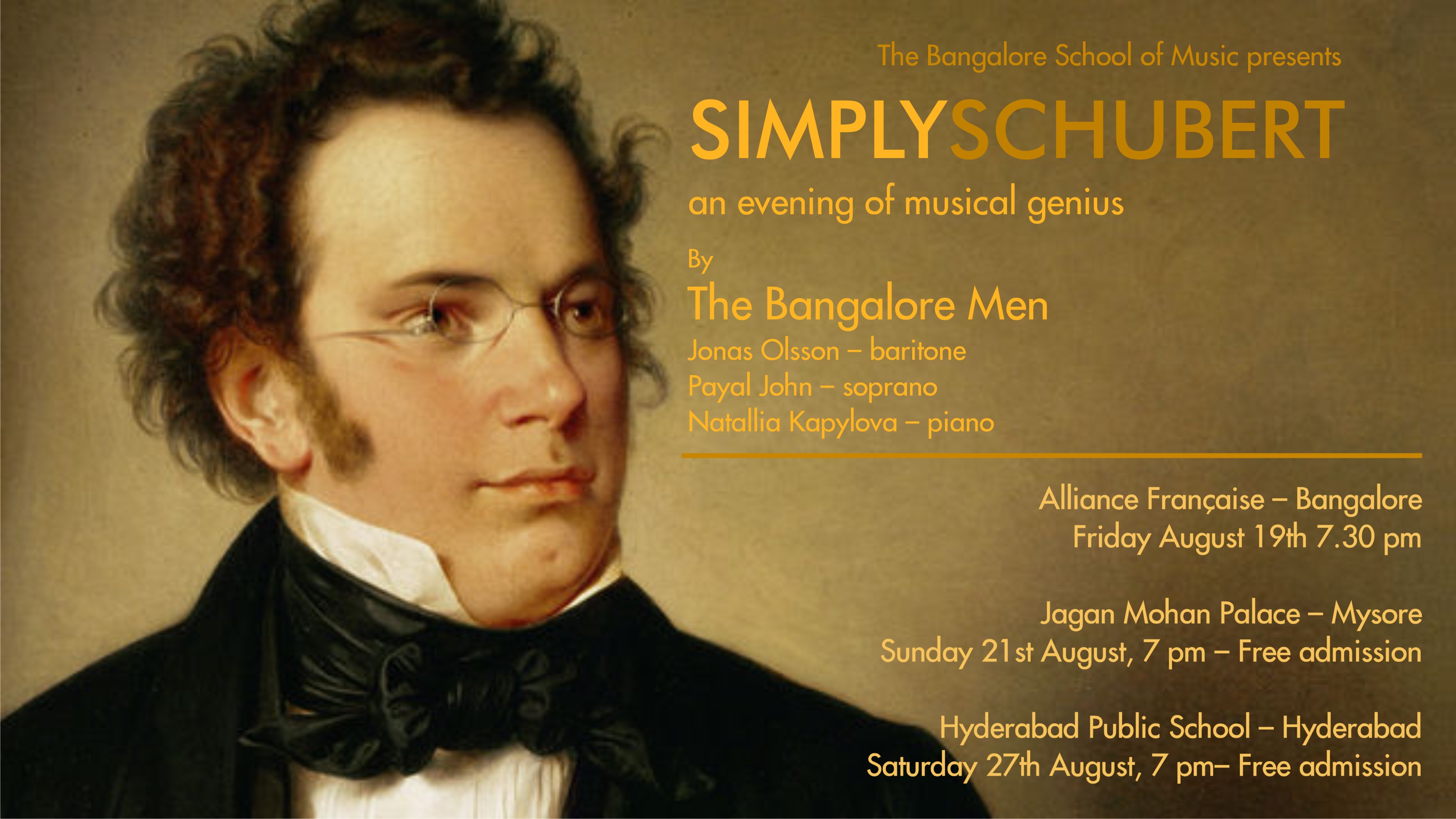 Together with Mr Jonas Olsson (Sweden/India), Ms Payal John (Pune) and Ms Natallia Kapylova (Belarus/India), the all-male ensemble of Bangalore School of Music, The Bangalore Men, will transport the audience to green pastures, canals of Venice and loving couples.
The Bangalore Men an all-male voices ensemble launched in January of 2016, consists of 11 singers, all with many years of previous experience singing in choirs. The group focuses on western classical music, from eras ranging from medieval music to contemporary, and is conducted by Jonas Olsson, voice faculty at Bangalore School of Music. The group is affiliated with The Bangalore School of Music, and is coached by Maria Forsström (Sweden). Simply Schubert is the groups tribute to the romantic music of Franz Schubert, and will see performances in Bangalore, Hyderabad and Mysore.
Payal John started singing Indian Classical music when she was 9 years old. In 2000 she joined the Delhi Christian Chorus and in 2001 decided to train further in Western Classical Music. She is a lyric soprano and her repertoire includes opera, sacred classical music and lieder. Ms John holds an Associate Diploma from Trinity College (London), and has studied under various voice coaches such as Patricia Rozario, Marco Baldari and Chul Young Hur. She has also taught in the vocal department of Delhi School of Music for several years.
Jonas Olsson who started his singing education in the Gothenburg Boys' Choir, Sweden, and continued with singing studies for Prof. Gunnar Forshufvud at the Gothenburg Conservatory, in parallel of studying music theory and music history. He continues to be coached by Ms Maria Forsstrom, one of Scandinavias most sought after vocal coaches and mezzo-sopranos. He specializes in lieder and oratorio repertoire, and living in Bangalore since many years, he is since September 2015 associated as a teacher at The Bangalore School of Music, where he also leads The Bangalore Men.
Belarus-born Natallia Kapylova has been hailed as a concert pianistsoloist as well as collaborating with other musicians– of exceptional, brilliant and dazzling ability. Natallia commenced her piano training at the age of seven and was under the tutelage of Prof. Yushkevitchat the Belarus State Conservatory where she obtained a highest degree in Classical Piano Performance, Artist of Chamber Ensemble and Concertmaster Diploma. Ever since she moved to India in 2002 , she has been working with select groups of students in Bangalore where she is based, to prepare them for the various programs, competitions and music examinations such as ABRSM, Trinity Guildhall and LCM, to name a few.
Tickets (Rs 250) at https://in.bookmyshow.com/events/simplyschubert-an-evening-of-musical-genius/ET00044054 and at the venue 1 hr prior to the performance.
Contact – [email protected]
Website – www.thebsm.net