Date/Time
Date(s) - 02/02/2016
7:00 pm
Location
Alliance Francaise de Bangalore
Categories
CONCERT: Japanese Music & Dance
7:00 pm | 2nd of February | Alliance Française auditorium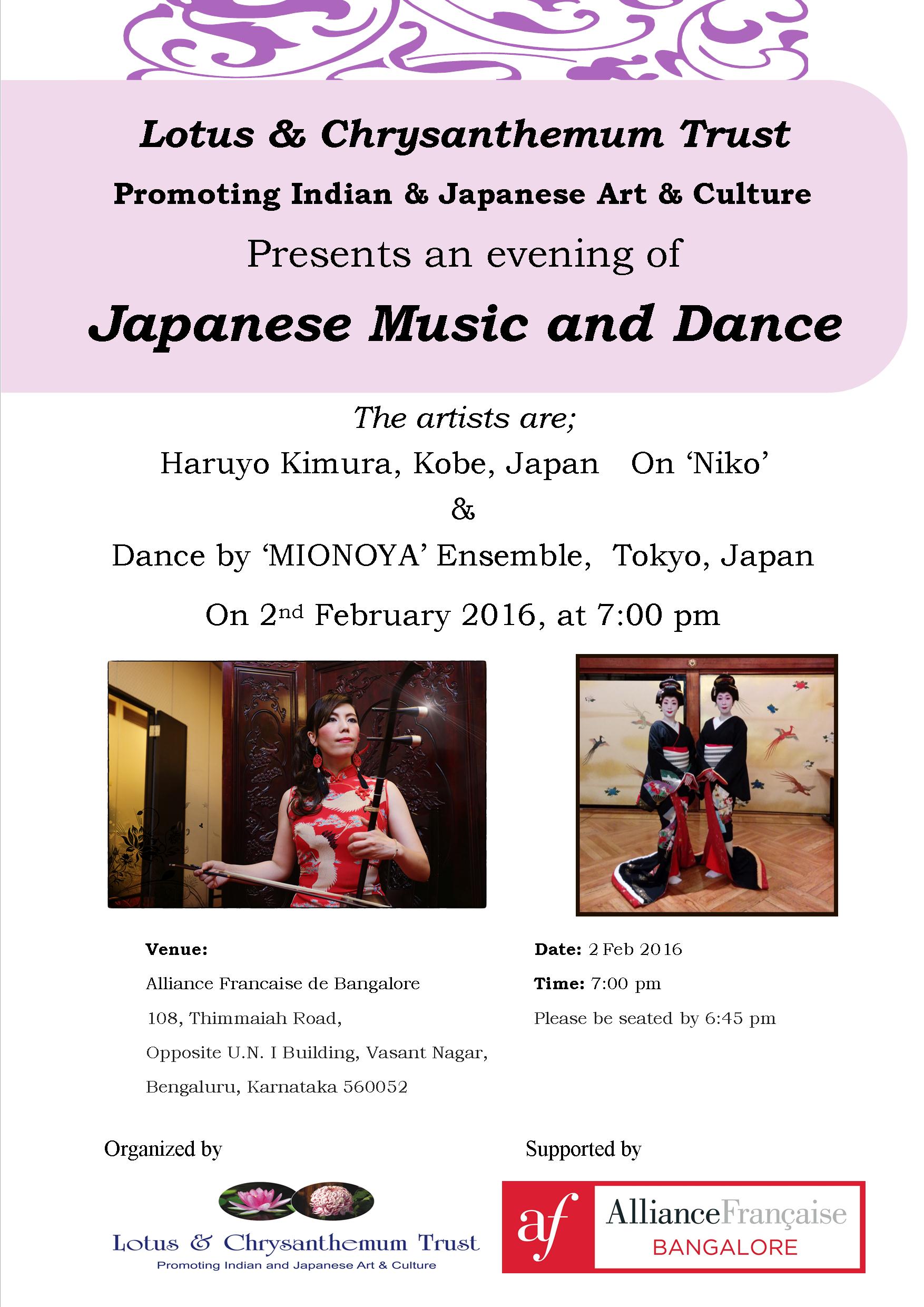 About:
Niko(Erhu/Chinese Violin)player Ms.Haruyo Kimura
Born in Kobe,Japan. With her artistic sensitivity creates her own expression of performance based on her technique which was acquired in Mainland China. Appeared in NHK(Japanese National Broad Casting Corp ) radio drama & many movies. She has released several CDs. 2013-Chendao Thailand. She played along with accordion & guitar as part of JADOH Rock band. 2014-Bangalore India. At National Gallery of Modern Art along with other players from Bangalore School of Music. The news was reported widely in local papers. 2014-Seoul S.Korea. At Japan Korea music exchange event, she played Niko and sang a Enka song. Her tune simulates the sound of singing and she is named as Diva in world of Niko. In the past several occasions instruments were presented by master maker of Niko. It was made by Japanese master of Niko maker, hence she calls it Wako (means domestically made) However Wako also creates amazingly beautiful tune which is beyond belief despite of being Japanese make. Conceptually Wako plays a significant roll in the world of Niko. She performs in various locations for over 150 stages a year. She is definitely one of the most progressive music players of this present days.
The Classic Japanese Dance (Nihon Buyo) Guild MIONOYA
MIONOYA is the Japanese Classic Dance Entertainer Unit, introducing Japanese classic culture through their dance performance. They don't perform only Classic Dance, but also modern Japanese dance to entertain foreigner and young generation.
Miotani Orii (Right on the picture) Stage Name; Hanayagi Taenosyou Master of Nihon Buyo, Founder & Representative of MIONOYA – Miotani Orii has learned Nihon Buyo from an early age, and been building up her professional career on TV shows and theaters. Now she promotes Nihon Buyo with Dance Guild MIONOYA which she has founded.
Umeda Chiaki (Left on the picture) Stage Name; Hanayagi Nikaharu – Umeda Chiaki started her Nihon Buyo career since childhood. She perform with Japanese legendary singer Saburo Kitasjima as his exclusive back dancer for more than decade. Now she promote Nihon Buyo with Miotani Orii as a member of MIONOYA.
NHK Kouhaku Utagassen, Meiji Kinenkan, Happo En, Qatar Airway Opening Ceremony, The Tokyo Chamber of Commerce and Industry, and so on.