Date/Time
Date(s) - 14/08/2016
2:00 pm
Location
Alliance Francaise de Bangalore
Categories
CONCERT: Freedom Jam 2016
2.00 pm | 14th of August | Alliance française Auditorium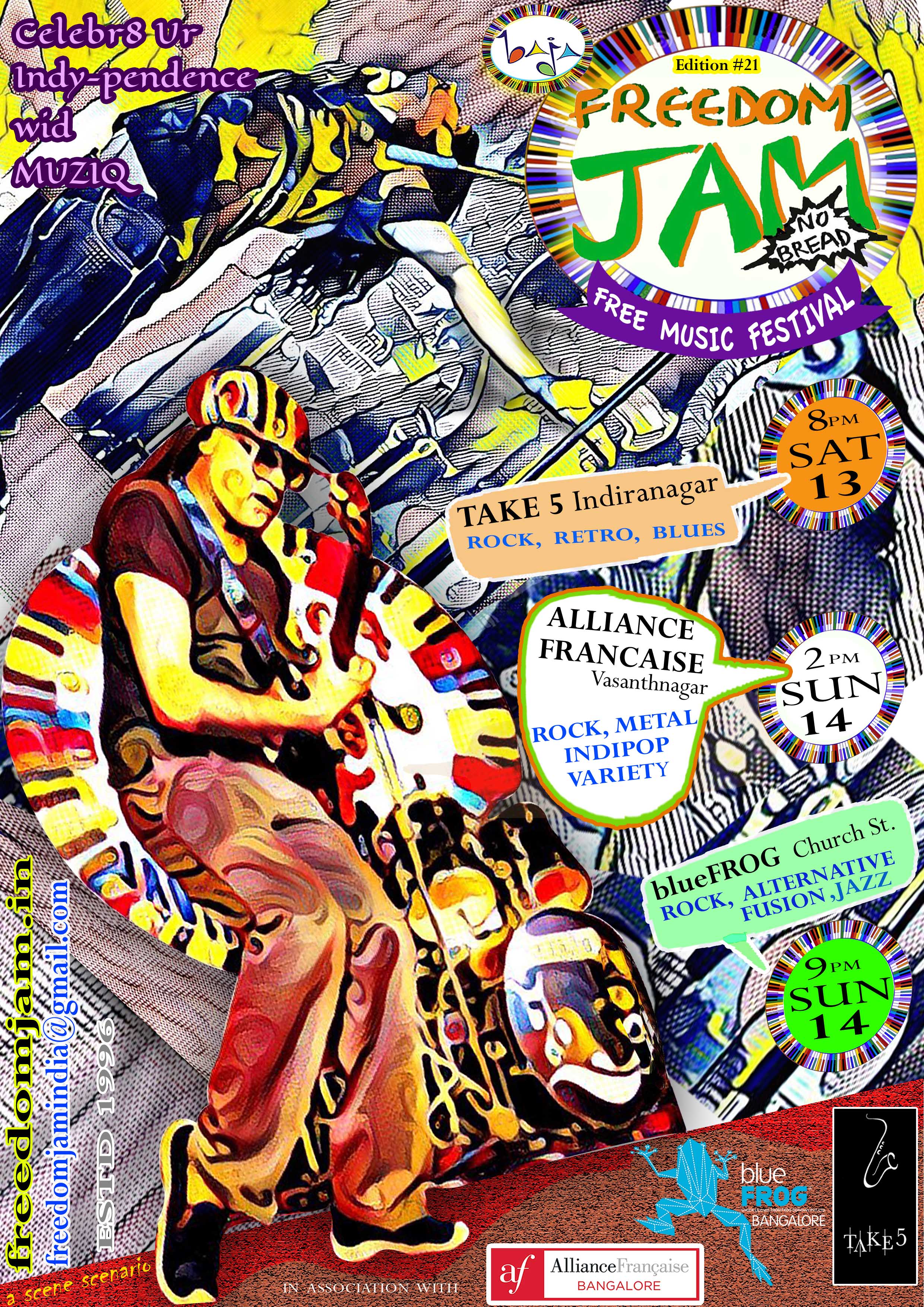 FREEDOM JAM – Free Music Festival on I-Day Weekend
The 21st annual edition of Bangalore's own home grown music festival, Freedom Jam featuring all kinds of live music will be held this Independence weekend onSaturday 13th, 8pm @ Take 5, Indiranagar and on Sunday, 14th, 2pm @ Alliance Française, Vasanthnagar & also on Sunday 14th, 9pm @ Blue Frog, Church St.
Freedom Jam – Free Music Festival started in 1996, during the nation's 50th anniversary celebrations as a platform for independent music performances of all styles. In fact it is a continuation in spirit of the Music Strip that was held, a generation earlier, in Cubbon Park.
The artists do not take fees and the audience enjoys the music without any entrance tickets. Freedom Jam, "No Bread".
Since then the festival has grown and is regularly held in Pondicherry during Republic Day weekend and several times in Goa on Liberation Day & during Chennai's Madras Week.
Many stalwarts of the local scene who are established performers today such as Thermal & A Quarter, Raghu Dixit, Vasundhara Das, Benny Dayal, Agam, Parvaaz, Gerard Machado, Kryptos, Inner Sanctum, Lounge Piranha, Ministry of Blues, Chronic Blues Band, etc., have all been part of the monthly Sunday Jams and annual Freedom Jams. Guests like Lucky Ali, L. Shankar, TAS & Rama Mani, Zilverzurf, Human Bondage, etc. have graced the stages of Freedom Jam.
Nowadays the scene has changed superficially, many live music places have opened up in Bangalore, musicians playing commercial music have more possibilities of performing, maybe even earning a living. However truly independent music is rarely encouraged unless the artist is hyped by the PR machinery. This is where a musicians movement like Freedom Jam, with its emphasis on originality, has relevance and the reason why so many creative musicians turn to Freedom Jam to express themselves.
After 20 long years, one wonders how long Freedom Jam will be able to survive and continue to provide a platform for Bangalore musicians.
Right now all is fine n rockin as listeners have a huge spread of musical delights to gorge on this Independence weekend.
On Saturday 13th, 8pm TAKE 5, 100ft Rd. above Coffee Day in Indiranagar, will present different styles of retro n rock by Alan Rego's Alchemy, TBD*, Wild Things & Cross Atlantic.
On Sunday 14th, 2pm ALLIANCE FRANÇAISE in Vasanthnagar will feature a whole lot of bands on a double stage – anything from rock metal indipop jazz to folk & accoustic sets. A few of the bands in the lineup are: Girish & The Chronicles*, Rex Rosario Quintet*, Illucia, Friends, 1 Fret Away, Supergreen, Friends, Motorwade, Rahul Khatri, 18 Across, Astralot, Ruby Tuesday,etc., etc.
Also on Sunday 14th, 9pm BLUE FROG will present a variety of exciting musical styles: Dr. Prakash Sontakke's* progressive raga n rock fusion, Jazz Revival's golden standards, John Daniel's accoustic vibe originals, TBD's power rock & Baja's electric folk rock.