Date/Time
Date(s) - 23/01/2015
10:00 am
Location
Alliance Francaise de Bangalore
Categories
ANNUAL DAY: Asha Foundation
10:00 am | 23rd of January | Alliance Française auditorium
The special children at Asha Foundation invite you to a fun filled morning of song, dance and a tuck shop. We practise dance, song, art, horticulture, vocational skills like candle making, gifts with beads as part of our learning…
 We would like to spread awareness and acceptance about Autism, Cerebral Palsy and other neurological challenges.
ASHA FOUNDATION – OVERVIEW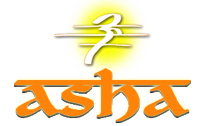 The Asha Foundation was set up in 2001 by Katharin Zimpel and Ramesh Vangal as a non-profit organization which includes an Intervention Centre that specializes in the rehabilitation of people with disabling physical and neurological challenges and a special school for Autism. Ramesh was inspired to set up the Asha Foundation on his way back from Dharamshala, India, in March 2001. Katharin and he were fortunate to have a private audience with the Dalai Lama, after which they visited a Tibetan Orphanage that houses children with cerebral palsy. Katharin grew up with a brother who has cerebral palsy and Ramesh's only son is a 21 year old with Autism.
The Asha Foundation has a team of dedicated and qualified professionals which include Physio Therapists, Occupational Therapists, Speech Therapists, Special Educators and Assistant Educators. The Foundation comprises of the Asha Intervention Centre (physio, occupational and speech therapy), and the Asha Centre for Autism (Special Education and therapy).
The Asha Foundation has reached out to more than 3000 children since its inception in 2001.
For further details/queries please contact – Usha Ramanathan – [email protected] / Anbalagan. D – [email protected]
Tel: +91 80 41808052 / 55 | Website: www.ashafoundation.org