Date/Time
Date(s) - 01/06/2015
5:30 pm - 7:30 pm
Location
Alliance Francaise de Bangalore
Categories
WORKSHOP: Drum Clinic by Zak Bond
5:30 pm | 1st of June | Alliance Française auditorium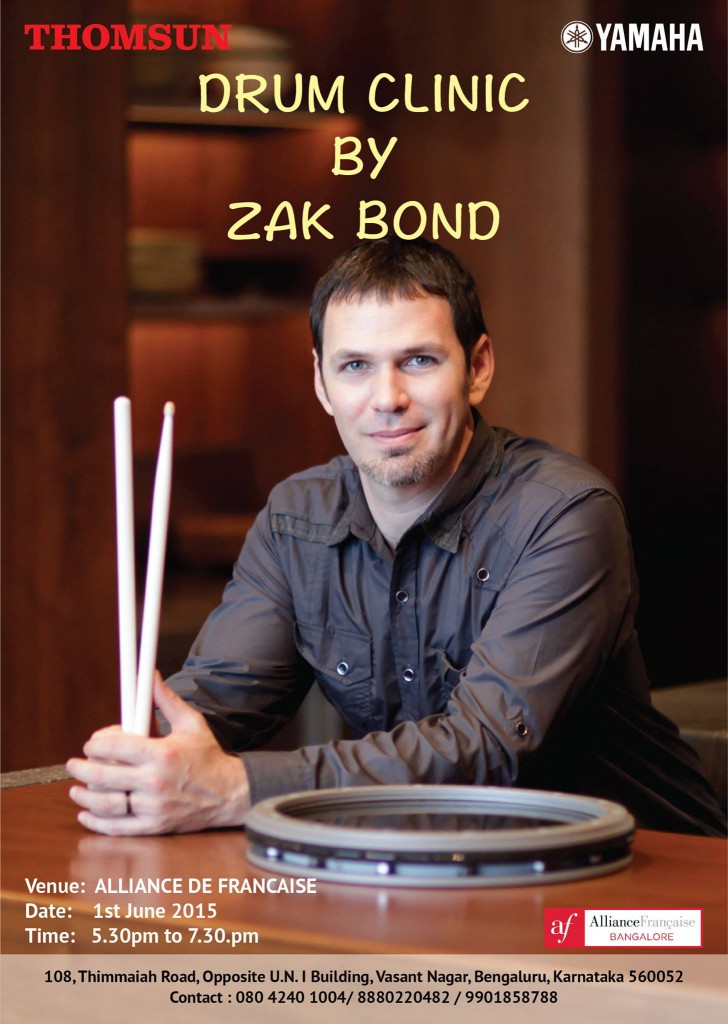 About the workshop :
This is a drum clinic organized by Yamaha and Thomsun Music House. We have Zak Bond ,a Percussionist and Instructor, from USA, who will demonstrate the features of the DTX 900 drum kit followed by a performance.
About Zak Bond :
Zak was born and raised in New Jersey. He began his musical career in 1991 after his family relocated to Florida, by performing with local theater production companies. Zak Bond first began studying percussion independently at the age of 10, and privately at the age of 13. His tenure as a member of the drum corps community spanned 11 consecutive years, in which time he achieved 2 Class A – DCA world championship titles, 4 High percussion titles, was honored as percussionist of the year twice and placed top 3 at the DCI World Championships with the Blue Devils Drum & Bugle Corps.
Currently residing in Tokyo, Japan , Zak Bond maintains an active career performing, composing, recording and teaching in the Asian Pacific area (South America, Oceania, Asia, Russia). Further notable affiliations include Anheuser-Busch, Universal Studios, and Blast! Inc./Star of Indiana. Zak has graced the stage and recorded with such artists as: Nick Luscombe, 311, Better Than Ezra, Quiet Village, Tom Partner, Scott Wilson, Sam Rivers, Roger Carter, Kozo Suganuma, Pete Sapadin, Marcellus Nealy, Dom Famularo, Ken Sato, Coppef, Danny Jordan, Puffy, Chemical Brothers, ELT, Paolo Gomez, Miharu Koshi, Ellis Hall, and Philippe Saisse among others.