Date/Time
Date(s) - 30/05/2014 - 31/05/2014
All Day
Location
Alliance Francaise de Bangalore
Categories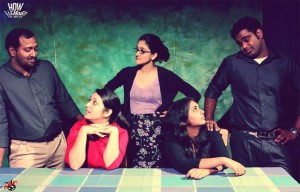 Renegades Art Theatre and Suchetedhama present "Proof"
30th May: 8pm
31st May: 3.30pm and 8pm
Written by: David Auburn; License: "By arrangement with Samuel French (JAGRITI)"
Directed by: Siddarth Selvaraj.
Catherine, the main character in the story, is torn between her desire to fulfil her personal potential and her obligation to care for, and perhaps refrain from surpassing, her once brilliant father, Robert.
When her father succumbs to mental illness, she finds it necessary to abandon her ambitions in the mathematical field and dedicate herself to his care, all the while dealing with the perpetual fear that she will inevitably succumb to the same psychological illness that plagued her father in his final years.
"Suchetadhama is a registered not-for-profit Trust set up to provide sustained and multi-faceted support that caters to the needs of persons with dementia and other neurodegenerative illnesses and their families and caregivers. Raising awareness about age-related diseases and advocacy on behalf of elderly is one of the primary objectives of the organization."