Date/Time
Date(s) - 24/06/2016 - 07/07/2016
9:00 am - 7:00 pm
Location
Alliance Francaise de Bangalore
Categories
EXHIBITION: Celebrating the Tiger at Ranthambore
All day | 24th of June – 7th of July | Alliance Française Atrium
A PRESENTATION OF PAINTINGS IN WATERCOLOURS
Ranthambore, situated near the town of Sawai Madhopur in Rajasthan, is well known for its tiger sanctuary. The bane of the Ranthambore tiger is the hanuman langur. Though the langur makes hardly a meal for the disinterested tiger, langurs are notorious for creating a din with their barks and calls whenever they sight a tiger, thus warning the tiger's potential prey. This equation between the tiger and the langur prompted the inspiration for the series of watercolours by the artist when he visited Ranthambore recently.
Tigers do not venture to the premises of the fort during human visiting hours: 7.00 am – 7.00 pm. However, they may wander there during the night. So when the artist visited the fort, the endearing langurs were in full attendance in every nook and corner; but the all pervasive spirit of the tiger was evident… and hence part of this series of paintings could be titled as "CELEBRATING THE ABSENT TIGER AT RANTHAMBORE FORT".
A curated display of 24 watercolour paintings is offered, also featuring spotted deer, sambhar, owls and other subjects. The paintings are forest-based and fort-based. The painting sizes are approximately 14" x 20" and 20" x 28".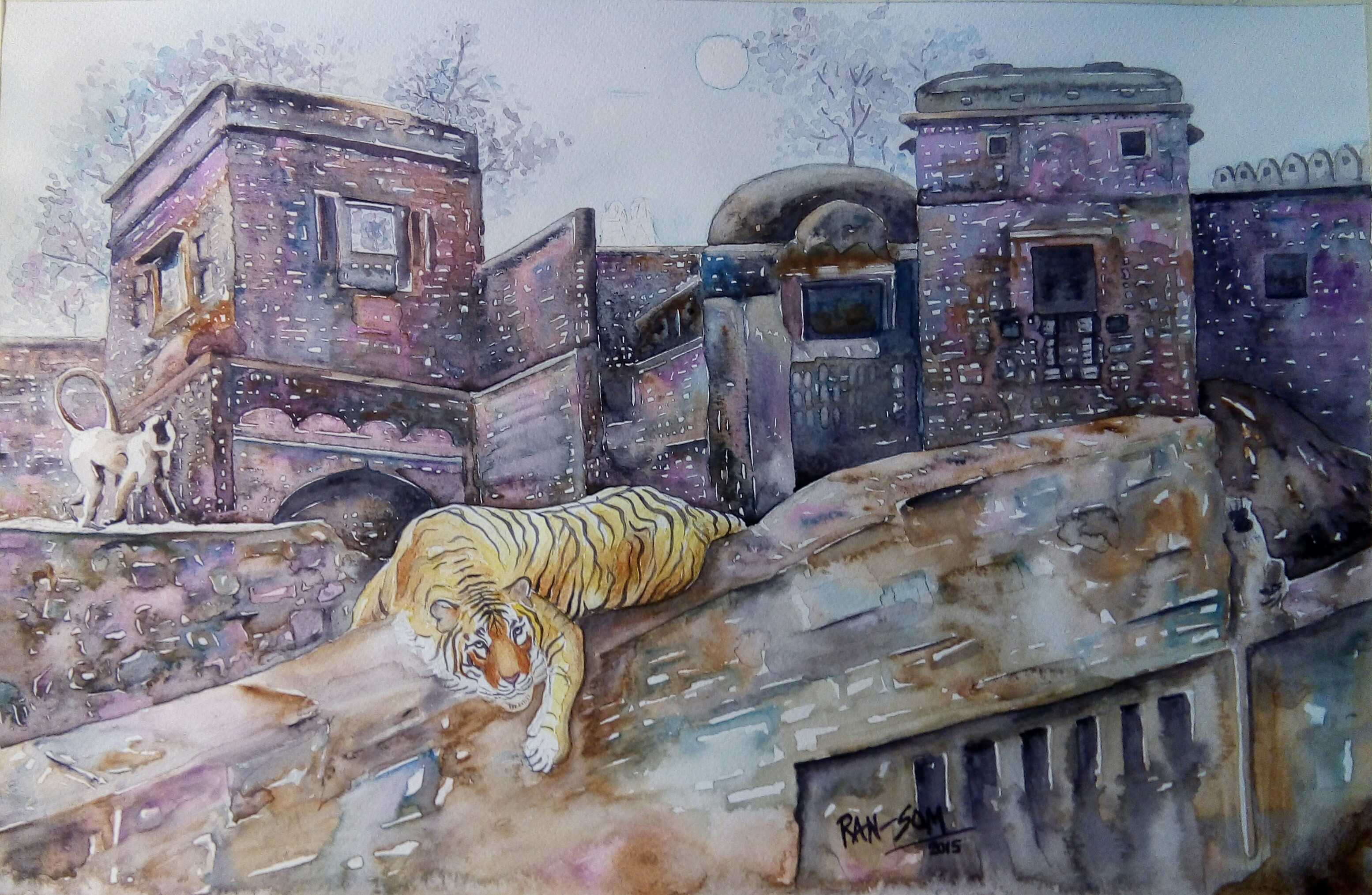 About the Artist:
B. Ranjan Somaiah is conscious about the fate and choices of future generations who have developed a culture that refuses to accept the irreversible. He is one amongst us who has invested his talent and sensibilities to speak about peace with nature and reconcile man and the animal world. One can appreciate his political stance and sadly admit the limitation and influence of his artistic efforts. But I was heartened about his courage and artistic imagination to speak out about the challenge of survival. Ranjan is a maverick – trained as an engineer from IIT Chennai, he decided to chase his passions in the visual arts viz. painting, cartooning and architecture. In his recent show at the Indian Institute of Cartoonists (IIC), he displayed his preoccupation as a concerned citizen, an environmentalist and an artist who is conscious of the violence in contemporary reality. In his show at the IIC, he speaks about his strategy and purpose in cartooning: to lampoon a situation, system or individual in a graphic manner so as to create awareness of a debatable issue – sarcasm added for masala – for the reader/observer to create his own impressions. His current body of paintings walks on the thin line of fantasy, myth and an underlying sense of responsibility as an artist. He uses images from the aquatic world to the very urban realities like global warming. There are mythical characters from the world of comics who inhabit his spaces. His utopia is visualised from the images of National Geographic to popular science fiction. He adds his dose of sarcasm, wit and humour to pepper his images; and certainly believes in the act of speaking figuratively. As a concerned citizen, he believes he is using his creative ability with a new orientation and meaning; and he believes in enriching our sense of justice and makes us aware of a new sense of responsibility and the awareness of the fragility of nature. – Suresh Jayaram (2008)