Date/Time
Date(s) - 22/04/2014
7:30 pm
Location
Chowdiah Memorial Hall
Categories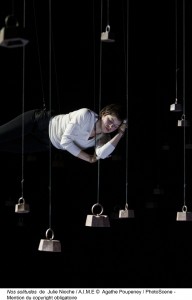 by Julie Nioche at Chowdiah Memorial Hall
Nos Solitudes is like a continuous free fall in which a woman's body is suspended in space, with different cables and pulleys attaching it to widely-spaced different weights and counterweights, weaving through the space and triggering some of the dance movements. The suspended body has an entirely different relationship to the space and to gravity itself, changing the experience of solitude in a new, moving frame of reference. In Nos Solitudes, the dance teeters a bit toward scenic metaphor, inviting the spectator inside the suspended state: a suspension of reality, of our troubles, our pains and of what ties us to them. The piece encourages each spectator to really listen to him- or herself in this airborne work, like stepping off a cliff into the void, being open to really listening to yourself, to trust your gut, to go forward. Over the running time of the piece the dance builds on the moments of Nos Solitudes.
This event is part of the "DanSe DialogueS" festival organized by the Embassy of France in India, Institut Francais and Alliance Francaise network.
Contact 080-40808181 / [email protected]
Venue: Chowdiah Memorial Hall
Entry Free
Concept, choreography, performance : Julie Nioche
Music creation, interprétation : Alexandre Meyer
Scenography : Virginie Mira
Aerial system : Haut + Court / Didier Alexandre et Gilles Fer
Light designer: Gilles Gentner
Costume: Anna Rizza
Technical Manager : Christian Le Moulinier
Assistant : Barbara Manzetti
Thanks to : Guillaume de Calan, Nicolas Gicquel, Gabrielle Mallet
Production : A.I.M.E. with Le Manège de Reims – scène nationale
Coproduction : Le Manège de Reims, scène nationale, Le Vivat scène conventionnée danse et théâtre in
Armentières
With help for the production from ARCADI and the support of Bateau Feu, scène nationale in
Dunkerque, the CENTQUATRE in Paris and the maison Hermès.
Thanks to : à la Ganterie Saint-Junien.