Date/Time
Date(s) - 03/07/2016
3:00 pm - 8:00 pm
Location
Alliance Francaise de Bangalore
Categories
CONCERT : Membranophone Saga by Sangeet Sadhana featuring Tabla maestro Pt. Subhankar Banerjee
3 – 8 p.m| 3rd of July | Alliance Française Auditorium
This is a twofold event. There will be a tabla workshop conducted by Pandit Subhankar Banerjee, followed by a live performance by him, accompanied by Pandit Vyasmuthi Katti on harmonium.
Pandit Subhankar Banerjee will be conducting the workshop, and performing later on in the evening. He is a world renowned tabla player, and one of the foremost proponent of the instrument, teaching and performing worldwide.
Being a musical prodigy he had started learning tabla since the age of five. He was placed under the tutelage of Shri Swapan Shiva, a celebrated and artiste and teacher, belonging to Farukhbad Tabla Gharana. Subhankar Banerjee ever since has dedicated his time and skills in learning other Gharana playing Tabla from different maestros.
He has received many awards from acclaimed personalities like Satyajit Ray in 1977, Pandit Ravi Shankar in 1985 and from President of India in 1987. He is even a competent vocalist, having been trained in vocal music since childhood.
In addition to being a reputed and skilled soloist, Subhankar is one of the few preferred accompanist of many prominent celebrities like Pandit Ravi Shankar, Ustad Amjad Ali Khan, Pandit Hariprasad Chaurasia, Pandit Shiv Kumar Sharma and many others.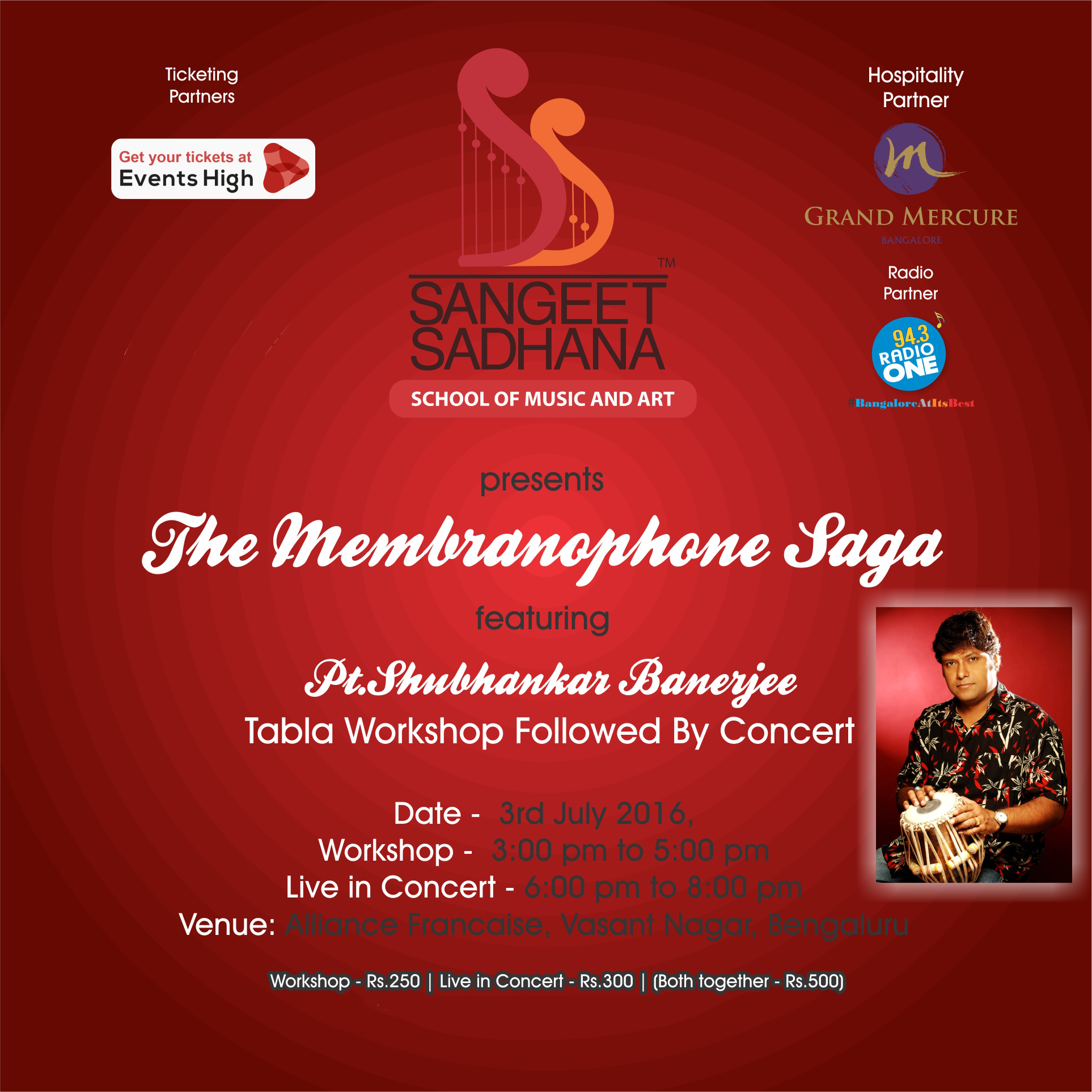 Sangeet Sadhana: School of Music and Art is organizing this event. Founded in 2009 this music school work for the promotion and propagation of Indian Classical Music and Art. They aim to nurture and cultivate the invaluable heritage of Indian of Indian music. They believe it's their responsibility to take a larger overview of the art and its possibility of assimilating Social and Cultural changes. It's an unique school whose philosophy is about teaching, spreading and celebrating music. They don't consider age as a restriction, and the age of their students ranges from 5 to 65. Their batch size is restricted to four to five students, facilitating maximum interaction between the facilitator and the students. They create groups based on competency, attitude and talent. They also host cultural and music events all through the year. Previously they have hosted musical personalities like flute player Pravin Godkindi, Padma Vibhushan Pandit Hariprasad Chaurasia and many others.
This event is meant for anyone who is musically inclined, especially a classical music connoisseur. This promises to be a spectacular evening. And you can attend just the workshop, or just the live concert, or both. It completely depends on your interest.
Buy your tickets at EventsHigh: