Date/Time
Date(s) - 03/03/2017
7:00 pm - 9:00 pm
Location
Alliance Francaise de Bangalore
Categories
AN EVENING WITH KIS
7 :00 PM | Friday, 3rd March | Alliance Française de Bangalore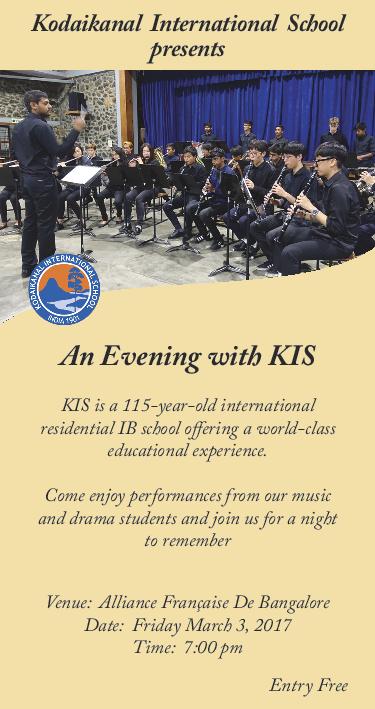 Kodaikanal International School is situated in the beautiful Palani Hills of South India – an ideal location for learning – 7000 feet above sea level where the climate is cool and the environment…breath taking!
Since its founding in 1901, KIS has been an autonomous Christian multicultural residential school with an academically challenging and university-oriented curriculum. KIS was the first school in India to offer the International Baccalaureate Diploma Programme (IBDP), in 1976
On 3 March, Friday, the Kodaikanal International School advanced band will present both contemporary and a twist of classical music to the audience of Bangalore at the Alliance Française de Bangalore. Student prodigies using a wide range of woodwind brass and percussion instruments will perform 'Pirates of the Caribbean', 'All about the base' and Beethoven's "5th" among other pieces
In addition, the drama department will present an adaptation of selections from William Goldings book 'Lord of the Flies'.  Male and female students across the ages of 9 through 18 will enact scenes bringing parts of the play alive in a way you cannot imagine. The KIS production stays true to the vision of the novel and promises to take the audience on a roller coaster ride.