Date/Time
Date(s) - 02/11/2014
7:30 pm
Location
Alliance Francaise de Bangalore
Categories
THEATRE: Malgudi Express
7:30pm | 2nd of November | Alliance Française auditorium
WeMove Theatre's latest play is adapted from R.K Narayan's Malgudi days. Malgudi, semi-urban town in southern India, conjured by Narayan in early 1930. "Malgudi Days" is a collection of short stories, each character that appeared in Malgudi represented epitome of Indian culture and tradition during the changing times under British raj and early days of post-independence "Malgudi Express" which probably will take us all down the memory lane. It takes the audience into a world created by the master writer himself, R.K Narayan.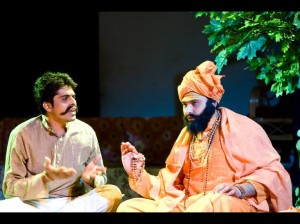 The research team at WeMove has selected few short stories from the novel, scripted them to a screenplay and has combined them using an original screenplay which includes many facts wit respect to Malgudi days and RK Narayan. The main intention of this play is to bring out the real essence of the novel "Malgudi" and at the same time educate the audience with some interesting facts of the book novel and its writer R.K Narayan.
WeMove Theatre's "Malgudi Daze" is a reflection of times that always stood for 'simplicity' and 'truthfulness', the play revolves around the characters who symbolize the imagination of R.K Narayan and also in many ways the society back then.
Malgudi Daze was premiered in April 2010 which was a full house. The play was then staged across Bangalore, Chennai, Mysore, Pune and Hyderabad for over 20 shows all leading to a full house play
Timing: 7.30 Pm
Ticket: 200/-
Duration : 70 mins
Age limit: 8 years and above