Date/Time
Date(s) - 26/11/2017
12:30 pm - 7:30 pm
Location
Alliance Francaise de Bangalore
Categories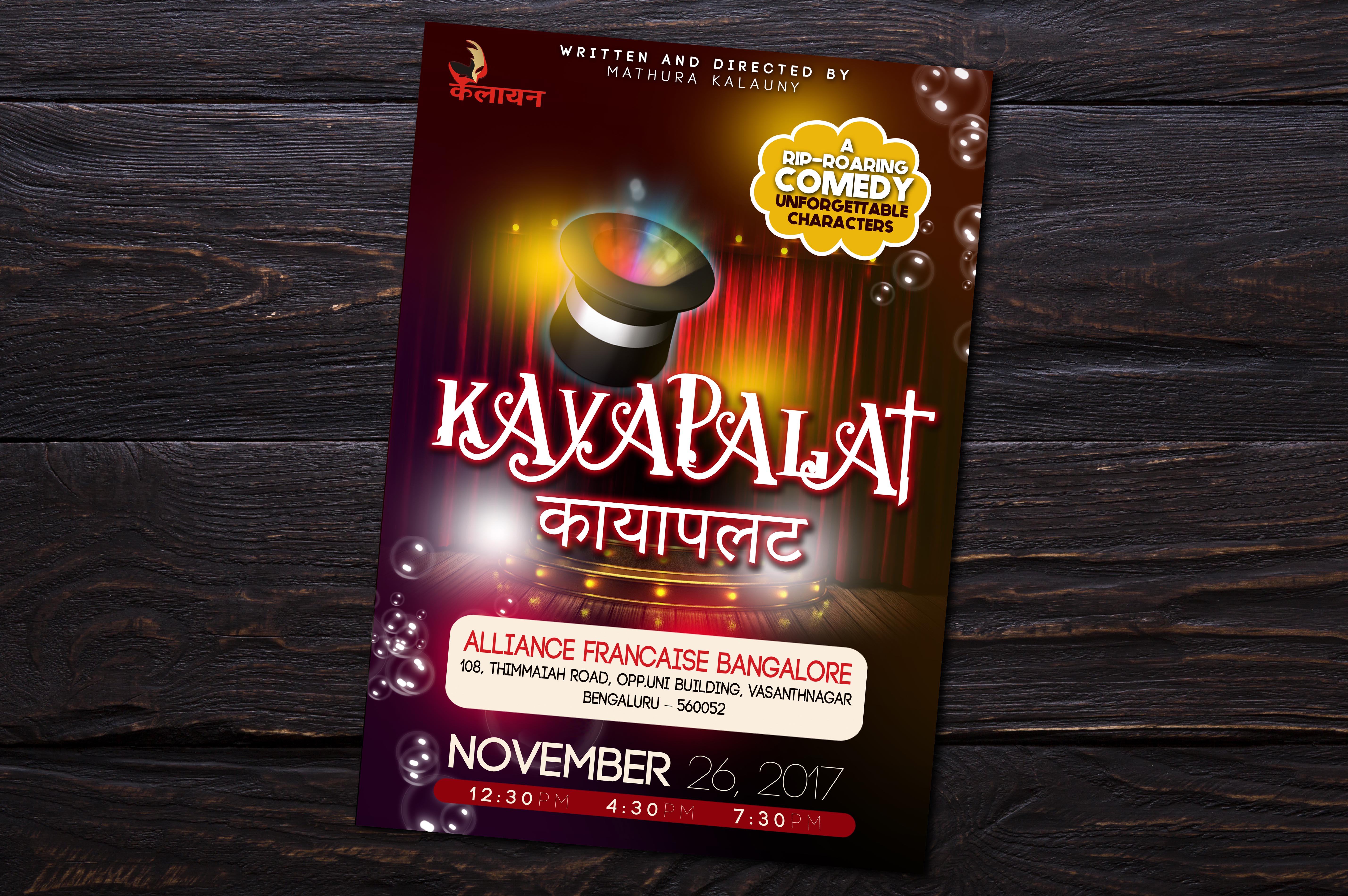 Artists
Sangeeta Panda, Faria Fatma, Sarbajeet Das, Srinivas Naidu, Amit Suthar, Utkarsh Gaharwar, Devashish Singbal, Rahul Joshi, Preeti Dubey
About the play    
Kayapalat with its hilariously ingenious plot, lovable characters, and barrel of laughs is coming Again!
Imagine a scenario  where you have switched your life with your long lost friend? Therein lies the humorous tale when Mahesh comes to visit his friend Dhruv the Inventor. Due to a quirk of fate, Mahesh and Dhruv's identities get interchanged! Now Mahesh has to manage Dhruv's home and  laboratory where he  doesn't even know the way to the bathroom!Bringing up the rear are a crazy family – the harried wife, a philosophical brother who sees the world through an alcoholic haze and a house help with a poetic inclination. And of course, there's the lovelorn girl-next-door, and wait … even a petty thief!
The play transports the audience to the magic reaches of imagination with its unique plot, witty dialogues, truly hilarious situations and unforgettable characters.
Kayapalat is pure fun!
Director–Mathura Kalauny
Writer — Mathura Kalauny
Age Limit-8 years and above
Ticket Price
12:30 PM –      ₹ 250
4:30 PM –        ₹ 300
7:30 PM –        ₹ 300